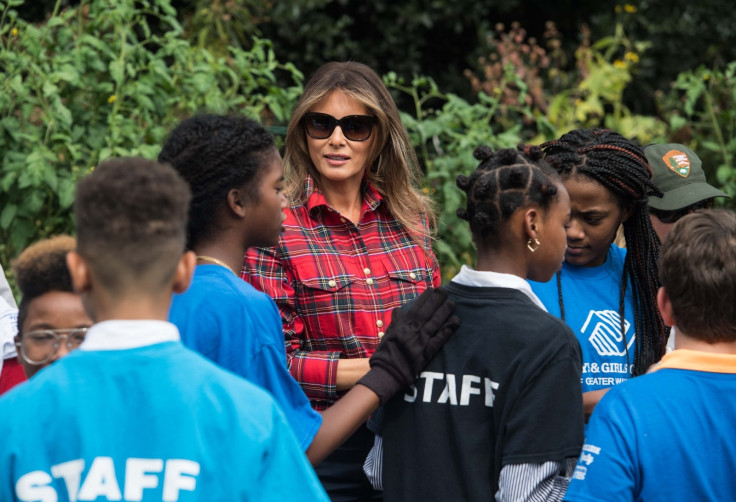 US First Lady Melania Trump is a fashion icon in many ways. However, her recent high-end fashion statements have invited ire from quite a few critics. On Friday (22 September), she wore a pricey Balmain shirt as she attended an event at the White House Kitchen Garden.
Flotus wants to continue former first lady Michelle Obama's initiative to fight childhood obesity and did so by inviting students from the Boys and Girls Clubs of Greater Washington to engage in gardening activities and also promoted healthy eating habits.
Though her cause was noble and she seemed to be enjoying herself handling fresh fruits and vegetables along with a bunch of children in the garden, it was her "Not So Down-To-Earth" high-fashion outfit that many thought was not appropriate for an outdoor activity with the young citizens.
The 47-year-old chose to wear a red plaid Balmain shirt for the event which, although looks quite simple, comes at a pricey $1,380 (£960). She completed her casual look with skinny black trousers and simple blue sneakers.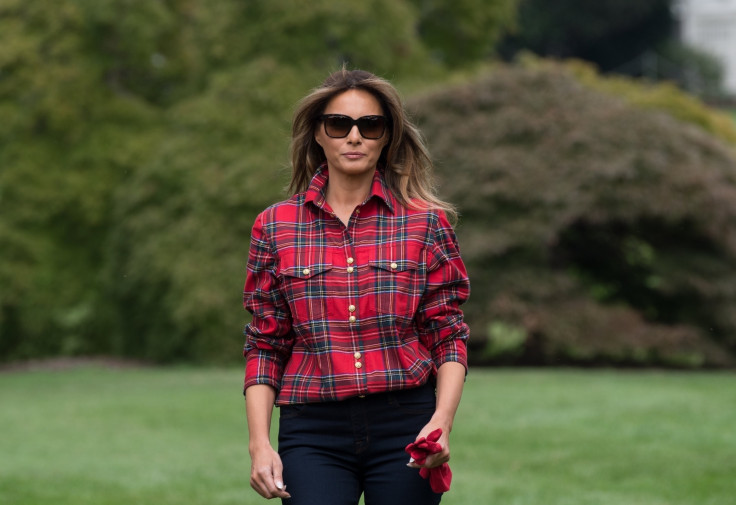 Many observers felt that Melania was setting a high-fashion trend at an event in which she needed to come across as more 'down-to-earth' and simple. The criticism comes after she created quite a bit of controversy with her stilettos during her visit to survey the damage caused by Hurricane Harvey in August.
During the garden activity, Flotus engaged in conversation with the children – aged around 10 – and asked them to "take care of themselves" by adopting healthy eating habits. She later planted vegetables and fruits along with the children.
This was Melania's first event in the 2,800 square-foot White House Kitchen Garden and she seemed to enjoy it.
Michelle started the garden in 2009, with its naturally-grown produce going to the White House kitchen and local food kitchens. "This is my baby. And hopefully, this will not be the last planting," the former Flotus had said after planting her last seedling in the garden in April 2016.
"Hopefully, there will be other administrations who come in and they take up this project and continue to make this a part of the White House tradition."