Where to watch Fifty Shades Darker trailer featuring Christian Grey and Anastasia Steele
Fifty Shades Darker is set for release on 14 February, 2017.
After much anticipation, Fifty Shades Darker trailer is nearly here. Universal has released the first teaser trailer for the sequel to the 2015 erotic film on Monday, which confirmed that the first theatrical trailer will be out on 13 September (today)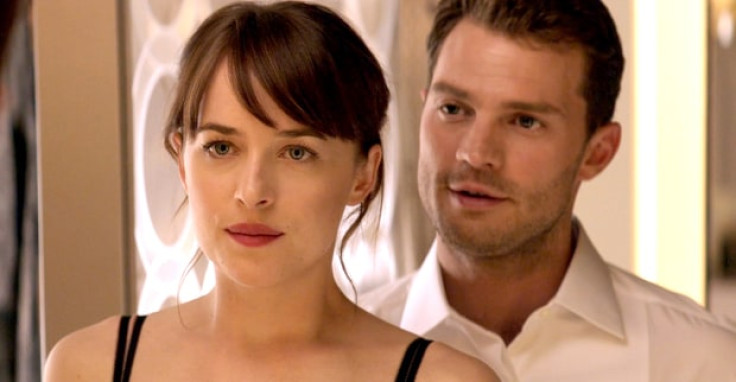 Ahead of Tuesday's release, the 19-second teaser features the return of Christian Grey (played by Jamie Dornan) and Anastasia Steele (playing by Dakota Johnson) as the text reads, "Tomorrow, slip into something a shade darker." The video opens with fireworks, then flashes to Anastasia standing in high heels and unwrapping a box with a lacy, grey mask inside. Christian then whispers, "Intrigued?" in Ana's ears.
Click here to watch the trailer on the movie's official YouTube account. Alternatively, you can watch the trailer on the movie's official Twitter account by clicking here and Facebook page by clicking here.
Previously, Dornan spoke to Entertainment Tonight about playing Mr Grey in the hit Shades Of Grey sequel. He said, "I felt more comfortable the second time around. There was a lot of pressure the first time. I think when you're making the first film of any franchise there is a lot of pressure in terms of setting a tone and the way it's shot and the way it's played and finding your feet with it."
The actor admitted that filming the sequel was a "better experience", and explained, "It was very strange that I came into that job six weeks before they started filming, which is totally unheard of in a franchise of that size -- and not the way you want to go into any job, really. This time I felt I had a lot more time on my hands. And the pressure seemed to be off a bit with every department because the first one made so much money. Everyone was in a better place about it. So it was definitely a better experience."
Teasing whether he will go full-frontal nude for the movie, the 34-year-old actor coyly said, "I hear ya! The truth is that I don't know the answer to that. You'll have to wait and see."
Fifty Shades Darker is scheduled to hit theatres on Valentine's Day 2017.
© Copyright IBTimes 2023. All rights reserved.