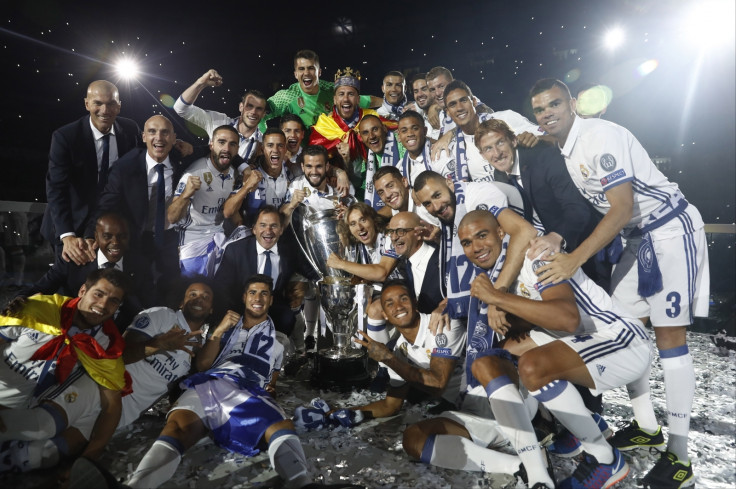 Real Madrid became the first team to retain the Champions League trophy when they beat Juventus in the final Cardiff in June. Yet, Los Blancos still want more and the new target will be to conquer the treble that Barcelona won both with Pep Guardiola in 2009 and Luis Enrique in 2015.
Zinedine Zidane has barely made signings this summer to replicate their arch-enemies but the feeling in Spain is that the La Liga and the Champions League holders are yet to reach his peak anyway.
The departures of Alvaro Morata, Danilo, James Rodriguez, Mariano, Pepe and Fabio Coentrao may have weakened the depth of Zidane's squad but the Real Madrid manager is convinced that players likes Marco Asensio and Isco will take a step forward in the new campaign to fill their gaps.
Furthermore, he has signed two other prospects for the future in Theo Hernandez and Dani Ceballos while Jesus Vallejo, Marcos Llorente and Borja Mayoral have also returned to the Santiago Bernabeu following their respective loan spells at Eintracht Frankfurt, Alaves and Wolfsburg.
The 12-time European champions will therefore be once again the team that the rest of the sides will want to avoid when the draw for the Champions League group stage draw take place.
When is the draw?
The 2017-18 Champions League group stage draw is scheduled to take place at the Grimaldi Forum in Monaco at 17.00 BST on Thursday 24 August.
Format
The 32 qualified teams are drawn into eight groups of four teams labelled A to H, where they will play each other twice over six match days between September and December. The sides are taken from four pre-determined pots which are assembled based on each club's Uefa coefficient – which is calculated by their results in European competition over the last five seasons.
The exception is pot one, which is comprised exclusively of the defending champions from the previous season plus the seven title winners from the top leagues in Europe, again based on Uefa's own ranking system. Those protected teams are the league winners from Spain, England, Germany, Italy, Portugal, France and Russia.
Teams are drawn in pot order and initially positioned in order of the pot from which they came. No two teams from the same country can be drawn against one another, while sides from Russia and Ukraine are also kept apart for political reasoning. The draw is only complete when all 32 teams have been placed in the eight groups.
Pots
Pot one: Real Madrid (holders), Bayern Munich, Juventus, Benfica, Chelsea, Shakhtar Donetsk, AS Monaco, Spartak Moscow
Pot two: Barcelona, Atletico Madrid, Paris Saint-Germain, Borussia Dortmund, Sevilla, Manchester City, Manchester United, FC Porto
Pot three: Napoli, Tottenham Hotspur, FC Basel, Olympiacos, Liverpool, Anderlecht, AS Roma, Besiktas
Pot four: Celtic,APOEL,CSKA Moscow,Feyenoord, Sporting Lisbon, Maribor, Qarabag FK*, RB Leipzig
Who could Real Madrid draw?
Best scenario: Porto, Anderlecht and Maribor.
Worst scenario: PSG, Tottenham and Leipzig.
Real Madrid will avoid Barcelona, Atletico Madrid and Sevilla from pot 2 as teams from the same country can't be drawn against one another until the knock-out stage. Yet, being the reigning Champions and being placed in pot 1 is not as advantageous as it would seem.
PSG finished in a disappointing second place in the Ligue 1 last season but they must better that this season following the world-record signing of Neymar. Something similar can be said of the two Manchester teams after Pep Guardiola and Jose Mourinho broke the bank in a bid to make their second year at City and United a success. With Dortmund always a threat, Los Blancos will surely want to face Porto in the group stage.
Napoli, Tottenham and Liverpool would be the teams to avoid from Pot 3 but Real Madrid already showed last season that facing the Italians shouldn't be a major concern – doing the double over Napoli both home and away in the last 16.
Meanwhile, in Pot 4, only Leipzig seems capable of generating any trouble to Zidane's side in their first step towards the defence of the Champions League title.