Labour's Lord Alf Dubs is one of the 669 who owe their lives to former London stockbroker and Kindertransport mastermind Sir Nicholas "Nicky" Winton.
Born to a Jewish father in Prague in December 1932, just a month before Adolf Hitler became Chancellor of Germany, Dubs would escape Nazism through the Netherlands to London's Liverpool Street Station on the eve of the Second World War in 1939.
Fact file: Lord Alf Dubs
D.O.B: 5 December 1932
School: Cheadle Hulme School, Stockport
University: London School of Economics
House of Commons: First elected in 1979
House of Lords: Made life peer in 1994
Dubs was initially able to join-up with his father, who fled for England in 1938 when the Nazi war machine began its occupation of Czechoslovakia, and was later rejoined with his mother in London.
Dubs, like other "Nicky's Children", would have to wait until 1988 to discover Winton's remarkable humanitarian role. BBC One's "That's Life" show, hosted by Esther Rantzen, reunited Winton with some of the children after his wife, Greta, discovered a Kindertransport-related scrapbook in the attic of their home.
The revelation came two years after Dubs, who first entered parliament in 1979, lost his Battersea seat by just 857 votes to Conservative MP John Bowis at the 1987 general election. He was then appointed the director of the Refugee Council in 1988, a role Dubs would hold until 1995.
Made a life peer in 1994, Dubs continues to be an active member of the House of Lords and sits on the upper chamber's EU External Affairs Sub-Committee.
The Labour politician has hit the headlines in the UK recently after the government attempted to quietly disclose, in a written ministerial statement, that it would only take 350 unoccupied child refugees from mainland Europe.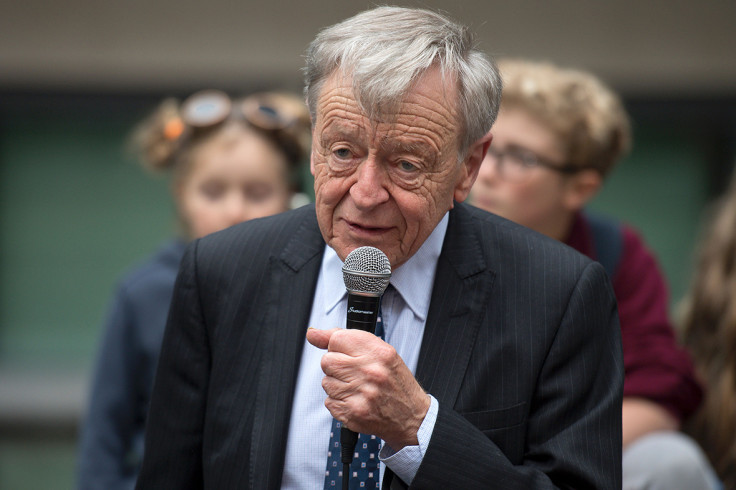 Dubs has described the decision as a "disgrace" after he led a campaign – the Dubs Amendment – to have 3,000 under-18s transported to Britain.
"A piece of legislation was passed with enormous public support, and the government has done nothing discernible about it," he told The Guardian.
Home Secretary Amber Rudd has been forced to defend the move, telling MPs that the French authorities said the scheme is encouraging people traffickers.
"I am clear that when working with my French counterparts they do not want us to indefinitely continue to accept children under the Dubs amendment because they specify, and I agree with them, that it acts as a draw," she said.
Dubs has stressed that he is not a "publicity seeker", but his story of survival and campaigning will continue to be told as the refugee row rages on.