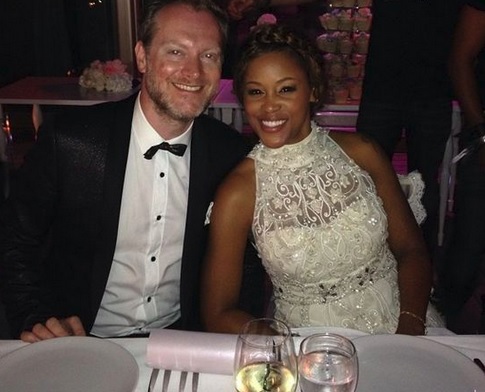 She once rapped about finding some 'Gangsta Lovin' but it seems Philadelphia-born rapper Eve's Prince Charming could not have been further from what she expected.
After three years of dating, the American hip hop star, whose full name is Eve Jeffers, has married British Gumball 3000 motor rally CEO and co-founder Maximillion Cooper.
The couple tied the knot in a picturesque beach wedding in Ibiza, Spain, in front of close family and friends.
Eve, 35, wore a stunning lace gown by British designer Alice Temperley. She teamed it up with a cathedral-length veil for her big day, while her new husband opted for a sleep black tuxedo.
Cooper, who has been married once before, said it was only right that they brought their romance full circle.
"I'm so happy to make Eve my wife," Cooper told E! News. "The whole experience has been amazing and we are both so happy to have tied the knot."
"We met on the 2010 Gumball 3000 rally so it only seemed right to have the wedding at the finish of this year's rally in Ibiza, which was the final stop on this year's event," he added.
Eve got engaged to the businessman back in 2013 after he popped the question on Christmas day with a huge diamond ring.
"I honestly have to say I never thought I'd be with a white guy ever," she previously said, during an appearance on The Chelsea Handler Show. "But it just happened. It's amazing. I'm the first black girl he's ever been with too."
Eve has previously dated reality star Stevie J and actor Michael Ealy.
Here, we get to know the man who won Eve's heart a little better...
Maximillion Cooper Facts
He had four children from his previous marriage
He is worth an estimated $50 million
He was born in Stone, Staffordshire, England
Cooper is the founder of the Gumball 3000 car race
This was his first interracial relationship
Cooper is also a fashion designer