Thomas Spencer Monson, the 16th president of The Church of Jesus Christ of Latter-day Saints (LDS Church/ Mormon Chuch) died on Tuesday (2 January) at his home in Salt Lake City, Utah. The American religious leader succumbed to "causes incident to age", according to a press release issued by the church.
Born on 21 August, 1927, Monson chose to enlist in the US Naval Reserve in 1944 and went on to resume his university education following the end of World War II. While he was a printer by trade, his focus was mainly on public service and LDS Church leadership.
At the age of 36, he was ordained an LDS apostle and served in the First Presidency under three church presidents before being elected the President of the Quorum of the Twelve Apostles in 1995. By 2008, he was named the president of the Church, succeeding Gordon B Hinckley to the post, which he continued to hold till his death on Tuesday.
He was given the titles of "prophet, seer, and revelator", as applied to the Presiding Patriarch.
Over his career, Monson received numerous awards and honours, including an honorary degree, an Honorary Doctorate of Laws by Brigham Young University; a Doctor of Humane Letters from Salt Lake Community College; Honorary Doctor of Business from the University of Utah; and an honorary doctorate degree in Humanities from Dixie State College.
The Boy Scouts of America also awarded Monson the Silver Beaver award in 1971 and its highest honour — the Silver Buffalo award in 1978. In October 1993, he also received the Bronze Wolf, the highest honour of the World Organization of the Scout Movement.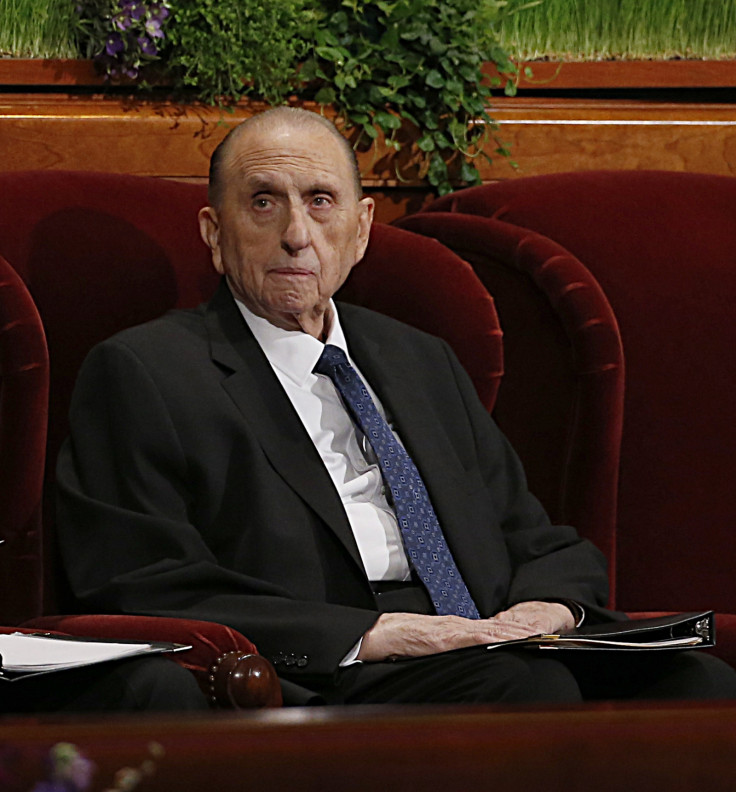 As president, he was extremely vocal about the need for stronger family values, an ideal that turned political when the Church sent a letter to local congregations in California, urging them to support Proposition 8 which was created to oppose legalisation of same-sex marriage.
"Our best efforts are required to preserve the sacred institution of marriage," the letter stated.
As the leader of one of the most powerful churches in the US, Monson also met with President George W Bush and President Barack Obama. However, in recent years as his health began to deteriorate, he made fewer public appearances, choosing to sit out another meeting with Obama in 2015.
In May 2017, the LDS Church issued a statement announcing that the religious leader would not attend the church's general conference in September, due to age-related limitations.
President Monson's wife Francis preceded him in death, in May of 2013. He is mourned by his three children and the 16 million members of his Church.