Who rode the mysterious armoured train from North Korea to Beijing?
Speculation about a visit to Beijing by North Korea's reclusive leader or possibly his younger sister, Kim Yo Jong ran high.
A mysterious armoured train traveled from North Korea to Beijing and then headed back without revealing its key secret: Was Kim Jong Un on board?
Speculation about a visit to Beijing by North Korea's reclusive leader or another high-level Pyongyang official ran high Tuesday amid talk of preparations for a future meeting between Kim and U.S. President Donald Trump.
The visit by the special train to Beijing and unusually heavy security at a guesthouse where prominent North Koreans have stayed seemed to point to the possibility that Kim was making his first visit to China as the North's leader.
Such a trip would be seen as a potential precursor to Kim's planned summit with South Korean President Moon Jae-in in late April and his anticipated meeting with Trump by May. Analysts, however, questioned whether Kim would make the visit to Beijing himself rather than send an envoy.
Whoever was on the train, their visit to Beijing appeared to be short. On Tuesday afternoon, a vehicle convoy led by a motorcycle escort headed in the direction of Beijing's main railway station. The train was seen leaving shortly afterward, less than a day after it arrived.
While there has been no word of a meeting with Chinese leaders, China has been one of North Korea's most important allies even though relations have chilled recently because of Kim's development of nuclear weapons and long-range missiles.
On Monday, heavy security was reported at the Friendship Bridge on the Yalu River marking the border between China and North Korea before a train passed through the Chinese city of Dandong. There were reports of it transiting several stations on the way from North Korea to Beijing.
Japanese broadcaster NTV reported that the green and yellow train appeared very similar to the one that Kim's father and predecessor as North Korea's leader, Kim Jong Il, took to Beijing in 2011.
Chinese Foreign Ministry spokeswoman Hua Chunying, asked whether Kim or another North Korean official was visiting Beijing, said, "I know you're all very curious but I have no information on that."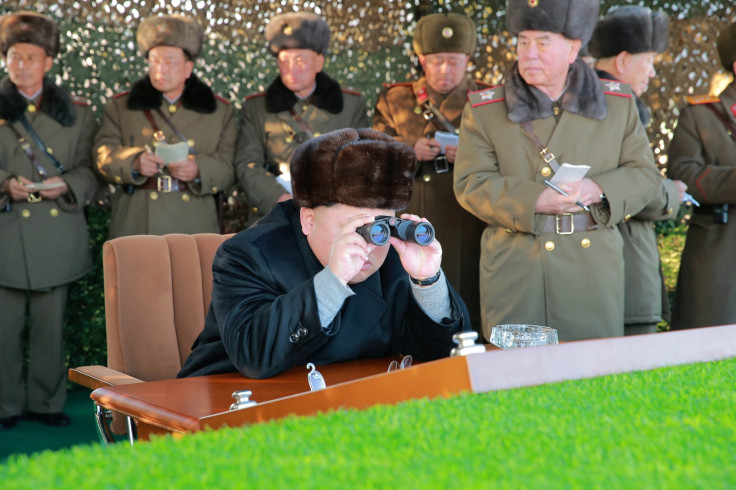 Past visits by Kim Jong Il to China were surrounded in secrecy, with Beijing only confirming his presence after he had crossed the border by train back into North Korea.
North Korea's state-run media had no immediate reports of a delegation traveling to China.
South Korea's presidential office said it could not confirm reports that the train carried Kim nor a separate report that Kim's sister was onboard.
South Korean analysts were doubtful the visitor is Kim. Since succeeding his father as leader in 2011, Kim has touted an image of his country as diplomatic equal to China and it's unlikely he would sneak into Beijing for his first face-to-face meetings with the Chinese leadership, the analysts said.
They said it's more likely that Kim sent a special envoy, possibly his younger sister, Kim Yo Jong, to appease a traditional ally ahead of his planned meetings with the presidents of South Korea and the United States. The envoy could potentially seek Chinese commitment for future support should North Korea's talks with rivals fall through, said Du Hyeogn Cha, a visiting scholar at Seoul's Asan Institute for Policy Studies.
"North Korea doesn't want to send a message that China has been pushed to the back as it makes diplomatic approaches to the United States and South Korea," said Cha, adding that the visit could be part of the North's effort to gain leverage in the talks with South Korea and the United States.
"If the talks with South Korea and the United States fall through, North Korea will surely try to demonstrate its nuclear weapons and missile capabilities again. The special envoy could discuss this possibility with Chinese officials, asking China not to press too hard with sanctions if that happens," Cha said.
White House spokesman Raj Shah said Monday that the U.S. could not confirm reports that Kim was visiting China.
Shah reiterated Trump's plans to meet with Kim, saying the U.S.-led international pressure campaign against Pyongyang "has paid dividends and has brought the North Koreans to the table."
© Copyright IBTimes 2023. All rights reserved.