Alvaro Morata is making the most of his limited opportunities at Real Madrid to show why his name gets constantly linked with the likes of Manchester United and Chelsea. Indeed, stats show that the Spaniard has a better goal ratio than Cristiano Ronaldo this season and only Barcelona star Lionel Messi beats him in La Liga.
The 24-year-old developed in the youth ranks of Real Madrid as a promising talent before then manager Jose Mourinho handed him his first-team debut at the age of 18.
Morata made a good impression during his first years at the Bernabeu, but in the summer of 2014 decided to move to Juventus in order to secure more regular time.
Yet, Real Madrid included a €30m (£25.3m, $32.6m) buy-back option in the sale. Last summer they activated the clause after Morata dazzled at the J Stadium.
It was said that Los Blancos only bought him to sell him for a profit as Manchester United, Arsenal and Chelsea were all interested in luring him to the Premier League.
Zinedine Zidane, however, kept the playerin his ranks to serve as a back-up for the BBC trident formed by Cristiano Ronaldo, Gareth Bale and Karim Benzema.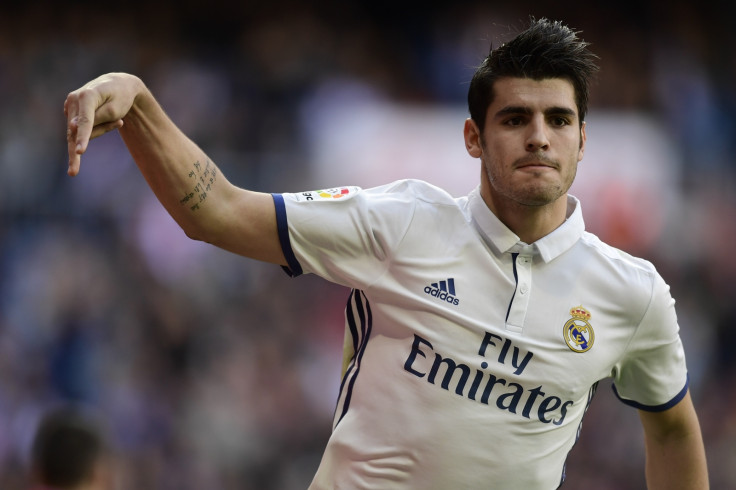 But his long-term future at Real Madrid once again in question – thanks to both his lack of playing time and the number of clubs reportedly ready to recruit him.
Morata has admitted that the Premier League would be his preferred choice if he decided to leaves Real Madrid again, adding that he would love to work with Chelsea boss Antonio Conte at one point.
However, the Spaniard previously said that he would forever be thankful to current United boss Mourinho for handing him his first-team debut at Real Madrid.
Morata is giving plenty of reasons on the pitch to explain recent reports in his homeland claiming both Chelsea and United are ready to battle for his services in the upcoming summer transfer window.
Nevertheless, his statistics at Real Madrid are those of a Galactico rather than those of a fringe talent for Zidane. Morata has scored 18 goals in 1,683 minutes for Los Blancos this term, including 13 in La Liga – despite only starting 12 games.
His 18 goals make the Spanish striker the club's second top scorer, only behind Ronaldo (31) and ahead of Benzema (17), even though the Frenchman has played 1,060 more minutes.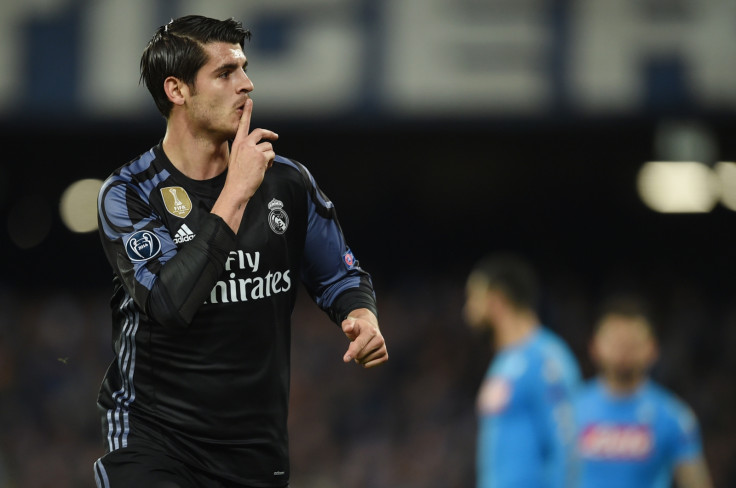 Morata only needs 93 minutes to score a goal while Ronaldo nets on average once every 112 minutes.
The former Juventus star also has a much better goals-per-game ratio than other La Liga stars such as Barcelona number nine Luis Suarez (who scores every 112 minutes) and Atletico Madrid ace Antoine Griezmann – who has needed 4,057 minutes to score 25 goals (one every 162 minutes).
Only Messi surpasses his figures as the Barcelona ace has scored 49 goals in 4,002 minutes of football – one every 81 minutes.
Those stats are seemingly not enough for Zidane though, as the Spaniard didn't play a single minute in recent key games against Barcelona and Bayern Munich. However, it's not a surprise that Manchester United, Chelsea and other clubs are tempted to make a move in the summer to add his pace and goal threat to their attacks. However, Real Madrid's demands won't be cheap, having rejected bids of a rumoured €60m last summer.