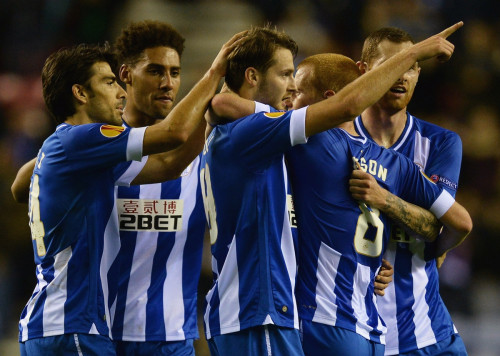 Wigan Athletic manager Uwe Rosler has heaped praise on Nick Powell and has backed the youngster to achieve greatness with Manchester United after he returns to Old Trafford.
The 19-year-old is on-loan with the Championship and has been in impressive form the Latics, scoring 10 goals in all competitions this season. It includes a brilliant display during Wigan's 3-1 win over MK Dons, where Powell scored two goals in helping his side to come from behind to seal three points.
Rosler believes that Powell is gaining the right experience with Wigan, which will help him contribute to David Moyes' side, when he return to Old Trafford after completing his loan spell with Championship side after the end of the season.
"Nick is in the right place, at the right time to develop and when he gets back to Manchester United they will be getting a young player with a lot of experience," Wigan manager explained.
"At Manchester United he played as one of the midfield players, we've played him wide and up front and as a No.9 – he has a fantastic physique, strength, power and technique."
"Every time he plays for me he gives me 110 per cent and that is fantastic. He is a 19-year-old and [at Wigan] he gets an enormous amount of Championship football in a team who will now fight for the play-offs."
"He has to play in a team with the pressure on, every single game to win. Nick is a player that excites me. He can play everywhere," Rosler concluded.
Meanwhile, United midfielder Darren Fletcher believes Moyes' men do not fear Jose Mourinho's Chelsea as the English champions take on the Blues for the Premier League fixture at Stamford Bridge on Sunday.
"Not at all, we are expected to win every game and it doesn't matter if it is Swansea at home or Chelsea away, it is viewed as a disaster if we don't win," Fletcher told United's official website.
"We have been in these situations before and sometimes in bigger games you really come together and it brings out your best performances as well because you are really focused and you are really intent on proving people wrong," the midfielder added.