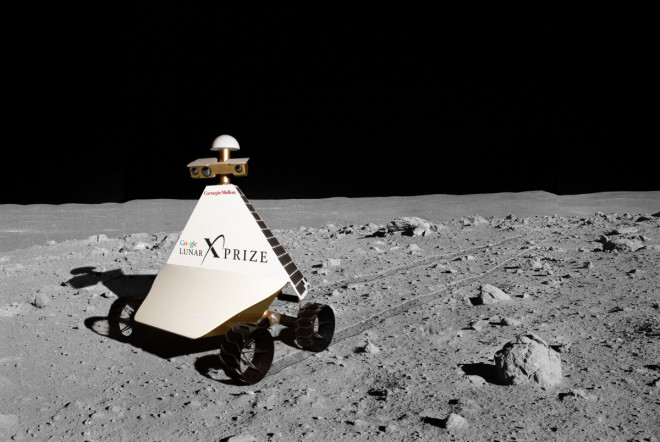 The Google Lunar XPrize foundation has added $6m (£3.6m, €4.4m) in "milestone" prizes and selected five finalists to compete - but it still might not be enough to get a lander on the moon by 2015.
The foundation is offering $40m in prizes for the longest time a lander lasts on the moon. The milestone prizes, which can be won by the first three or four teams able to overcome "key technical risks" in the areas of imaging, mobility and landing systems, which are all essential in getting to the moon.
Out of the 18 teams, only five have managed to qualify for all three categories – two teams from the US, one from Germany, one from Japan and one from India.
All privately funded, they have until the end of 2015 to make a robot that can land on the surface of the moon and travel 500 metres above, below or on the lunar surface.
The robot also has to have an imaging system good enough to send back two "mooncasts" of information and video to earth.
Where's the money?
To make a soft moon landing possible, the teams will have to spend up to $100m to complete the project, and the technical challenges are so hard that it is difficult to secure funding from investors.
"The Google Lunar X Prize is one of the least promising things I've seen come out of the private space industry," Jonathan McDowell, a space historian and astronomer at the Harvard-Smithsonian Center for Astrophysics, told Nature.
"In two years, I just don't see it from any of these teams."
The competition has already been extended once – the prize was announced in 2007 with an original deadline of 2012, and that was extended till the end of 2015 in 2009.
While analysts are estimating that by 2025, the space market could be worth $1.9bn, the difficulty in securing funding lies in finding a good market proposition for what the moon landers can be used for.
In 2004, the Ansari X Prize, worth $10m, was won by Scaled Composites, for achieving repeatable spaceflight using a manned aircraft.
Making deliveries to space
Scaled Composites' sponsors went on to found Virgin Galactic, which has been taking deposits for $250,000 space-tourist tickets since 2005 and currently undergoing an extensive test flight programme of the Virgin Spaceship Enterprise.
One of the US teams is Astrobotic Technology, a spin-off company from Carnegie Mellon University that specialises in payload delivery and aims to charge $1.2m per kilogram for a soft-landing delivery and less for a non-controlled drop.
The company has already secured some payload contracts, with one example being to deliver human ashes to the moon for Celestis, a company that offers memorable spaceflights.
Outernet, a company that wants to bring free global Wi-Fi to rural parts of the world by beaming internet down from satellites, is looking to have its tiny 10cm cubesat satellites delivered on space shuttle re-supply missions to the International Space Station and said that it was quoted the price of $125,000 for 1kg, which would become cheaper if weight was purchased in bulk.