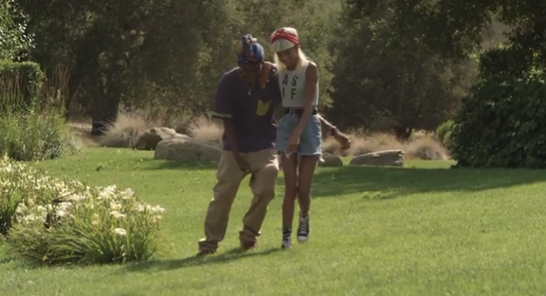 Willow Smith has courted controversy after premiering the video to her latest single, Summer Fling.
In the four-minute new promo, the 12-year-old daughter of actors Will Smith and Jada Pinkett Smith sings about a love affair that only lasts a few months, and ends by the time she returns to school.
For the visual the young star can be seen spending time with a boy and having fun poolside with friends while wearing a Rihanna-inspired blonde wig.
A pair of apparently lesbian teens are also shown holding hands and gazing into each other's eyes as they float in the water.
Her lyrics feature lines such as: "Bright sun and the blue waters, We fight less and love harder.
You tell me that I'm the one, I tell you it's just for fun.
We walk the beach at midnight, and watch the stars and the clear skies.
We both say I love you, but it's alright."
But the racy and provocative promo has received mixed reviews following its online debut.
While some claimed she was being over-sexualised, others insisted that song was innocent and about young love not a sexual relationship.
One critic said: "This child is too young for this grown-up stuff. I don't care how care free the Smiths are with their children. This is just too much. At this age I didn't even know what a fling was let alone did I want to be around some boy twirling around the woods,
"I like the song but she look like a confused kid," said another commentator.
"It seems like you're putting so much emphasis on the title of the song instead of listening to the actual words. Which lyric made you think she was referring to sex? Or have you even listened to the words yet?" a third added.
Willow made her career debut in 2010 with the hit song 'Whip My Hair', which peaked at number 11 on the Billboard chart.
The singer has now made her musical comeback after a brief hiatus as Melodic Chaotic, collaboration with DJ MVSIC Fabrega.