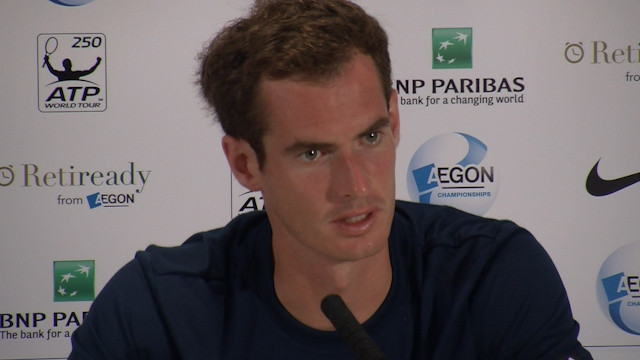 Andy Murray says he will begin Wimbledon in better shape than last year when he won the tournament by beating Novak Djokovic.
The 27-year-old recently reached the semi-finals at the French Open but failed to regain the Queen's title after a third-round defeat by Radek Stepanek.
However, the British No 1 says he is confident of winning Wimbledon after undergoing minor surgery to ensure full recovery from lower back problems.
"I feel like I'm in good shape physically at the moment. Maybe in better shape than I was in last year. When I play my back feels a lot better -- and why not [win it]?" Murray told Sky Sports.
"That's what I hope. That's what all the players in the tournament will be trying to do."
Murray will begin the defence of his title against David Goffin of Belgium on the opening day on Monday.
"You can't really take anything for granted these days. The game's so vast, you can't look past anyone and also you have no idea who you're going to play.
"There are a lot of great players out there who won't be seeded, so you could end up playing them.
"From my side in terms of pressure, I will be expected to be pretty much the same because when you go into those events you want to try. From a media perspective there won't be as much pressure."
Murray also talked about the appointment of Amelie Mauresmo as his new coach.
"I spoke to her a few times on the phone, had good conversations with her about my game and various things and I just felt like it was a good fit for me. Her game style is similar to mine in a lot of ways," said the Scot.
"It just about finding the right person who could communicate with me the best and that's why I decided to hire her."