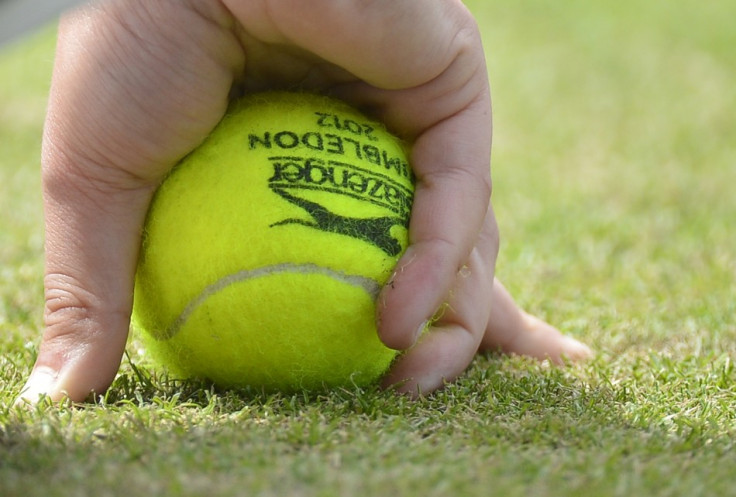 If the first three days of the 2012 Wimbledon Championships did not provide enough action by way of high-profile players being unceremoniously dumped out and top seeds falling prey to unheralded outsiders, Thursday more than made up for all of that.
The result that sent shockwaves throughout the tournament - 11-time Grand Slam champion Rafael Nadal's five set loss to the Czech Republic's Lukas Rosol - 6-7 (9-11), 6-4, 6-4, 2-6, 6-4 - has not only opened up the draw and made things, potentially, a lot easier for fourth seed Andy Murray, but also Nadal's rivals - Roger Federer and Novak Djokovic. The only thing that will now worry both the latter two is running up against their own version of a Rosol!
Day Four:
Nadal's shocking result aside, there were few surprises on a largely routine day. Women's sixth seed and former champion Serena Williams was untroubled - 6-1, 6-4 - by Hungary's Melinda Czink and top seed Maria Sharapova returned, after Wednesday's delay, to see of Tsvetana Pironkova of Bulgaria in three hard-fought sets - 7-6(3), 6(3)-7, 6-0. Also through were second seed Victoria Azarenka, in imperious fashion, beating Romina Oprandi 6-2, 6-0 and defending champion Petra Kvitova, who beat Britain's Elena Baltacha 6-0, 6-4.
Murray was stretched by the big-serving Croatian Ivo Karlovic to four sets but the fourth seed won through - 7-5, 6(5)-7, 6-2, 7-6(6). Elsewhere in the men's singles draw Britain's James Ward went down fighting to tenth seeded American Mardy Fish, losing 3-6, 7-5, 4-6, 7-6(3), 3-6. Fish's fellow American and 30th seed Andy Roddick was less troubled, advancing with a straight sets win over German Bjorn Phau. Finally, fifth seed Jo-Wilfried Tsonga also advanced, beating Spain's Guillermo Garcia-Lopez in four.
Day Five:
All the attention on the fifth day will be on Djokovic and Federer, as well as Sharapova, all three of whom will be in action in their respective third round matches. With the cautionary tale of Nadal's defeat in mind, neither of them will be inclined to take their opponents likely.
Djokovic will get us started on Centre Court, with a tricky game against another player from the Czech Republic and 28th seed Radek Stepanek will certainly be a dangerous opponent. The 33 year old was once ranked eighth in the world and although he is now 27th and has enjoyed more success in the doubles version, he could prove a problem and recorded his career best Grand Slam performance on the grass of Wimbledon, reaching the quarter final in 2006.
Novak Djokovic (SRB)[1] vs Radek Stepanek (CZE)[28] on Centre Court at 1 pm BST
Djokovic will be followed by the arguably legendary Roger Federer, whose record of six Wimbledon crowns in seven years, between 2003 and 2009 is worthy of any of the past masters in the game. Just to prove he isn't a one-court wonder, the 30 year old Swiss won the US Open between 2004 and 2008 (he reached the final in 2009), the Australian Open in 2004, 2006, 2007 and 2010 and the French Open in 2009. His opponent is the significantly less distinguished Frenchman Julien Benneteau, the 29th seed.
Roger Federer (SUI)[3] vs Julien Benneteau (FRA)[29] will be the last match of the day on Centre Court
Meanwhile, also in action will be 12th seed Nicolas Almagro of Spain and 18th seed Richard Gasquet of France, who will play their third round match as the last of the day on No 1 Court, while 17th seed Fernando Verdasco, also of Spain, will face Belgium's Xavier Malisse on No 3 Court.
Over on the women's side, the big name of the day will undoubtedly be top seed Maria Sharapova, who will headline at No 1 Court after American Sam Querrey and Canadian Milos Raonic, the 21st seed, finish their carried-over second round game. As things stand, it is evenly poised between the two - 6(3)-7. 7(9)-6(7), 3-3. Once that is over, Sharapova will take the court to fight past Chinese Taipei's Hsieh Su-wei, in what should, really, Nadal's defeat to Rosol notwithstanding, be an easy win for the Russian.
Maria Sharapova (RUS)[1] vs Hsieh Su-wei (TPE) will be the second match of the day on No 1 Court
Also in action during the fifth day will be 12th seed Vera Zvonareva of Russia, who faces an exciting clash with former world number one and 2003 and 2006 semi finalist Kim Clijsters of Belgium. The three-time US Open (2005, 2009 and 2010) winner doesn't have the best of records on grass and has been absent four of the last five years but the ease with which she went past 18th seed Jelena Jankovic - 6-2. 6-4 - in the first round and Andrea Hlavackova - 6-3, 6-3 - in the second suggests the Russian could have a fight on her hands.
Vera Zvonareva (RUS)[12] vs Kim Clijsters (BEL) is the third match of the day on No 1 Court
Where to Watch Live:
You can follow all the action live, from 11.30 am to 3.25 pm BST and from 5.50 pm to 8 pm BST, on BBC2. Live action will also be available from 1.45 pm to 6 pm BST on BBC 1. For country specific and broadcasting details and times, check out the BBC television programming Web site. You can also follow the matches live on Wimbledon's official Web site. Catch the highlights of Day Five from 8 pm to 9 pm BST on BBC 2.