Microsoft has revealed that Windows 10 accounts for more than half of all of its app store downloads. The operating system was released for Windows PCs and tablets back in July and is presently being run on 110 million devices across the globe.
In a blog post, highlighting the latest Windows Store trends, the software giant has shown the performance of Windows 10 across geographical markets. The Redmond-based company said that Windows 8.1 is still the "most popular OS for both Windows and Windows Phone" for the past year, but Windows 10 has already started establishing its presence on the Windows Store traffic charts at a faster rate. The number of devices running Windows 10, is close to 11% of what the company had estimated to get in a couple of years.
Further, Microsoft revealed that Windows 10 users have made more than 1.25 billion visits to the Windows Store in the first two months after its launch, accounting for more than 50% of the visits on the Windows Store. Moreover, Windows 10 accounted for twice the user-engagement and four times the revenue per user compared to Windows 8.x.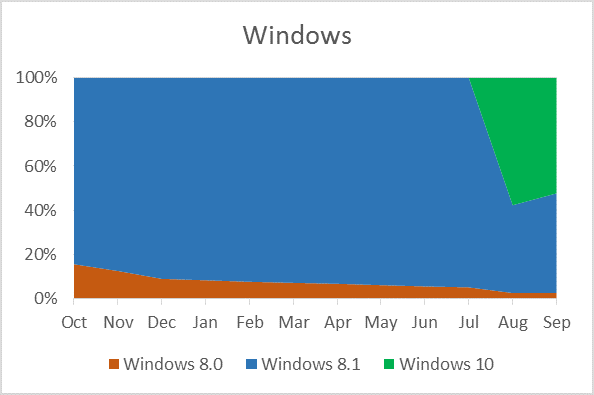 When it comes to Windows 10 app downloads on Windows Store, the Games category was the most dominant one as of August 2015. Entertainment, Photos & Videos were second and third place, respectively. This was followed by Productivity and Utilities & Tools. Action & Adventure games account for a quarter of all game downloads, followed by Puzzle & Trivia, Music, Racing & Flying and Card & Board.
Microsoft is encouraging developers to start using its universal Windows 10 app support, and design apps for both PCs and mobile devices, using the same code. It also offers an easy transfer capability for developers to let them transfer their existing Windows 8.1 codes to Windows 10 apps.
Windows 10 is currently available for PCs and tablets and will be released for smartphones in December. The operating system offers Cortana integration and features like Continuum to deliver an advanced computing experience.