Windows 10 update goes live around the world for free in 190 countries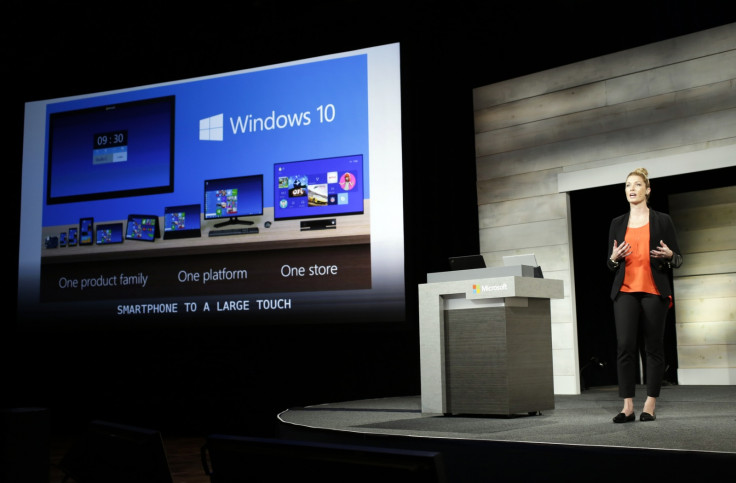 Unlike 20 years ago when the launch of Windows 95 was accompanied by midnight store openings; long, snaking queues of customers and even an ad campaign with a Rolling Stones soundtrack - the launch of Microsoft's latest operating system Windows 10 is an altogether more laid back affair.
Windows 10 key features
Cortana - Microsoft's answer to Siri is built right into the operating system
Microsoft Edge - Replacing Internet Explorer, the new browser promises to be fast and allow for easy sharing of content
Xbox app - the integrated app delivers the Xbox experience to Windows 10 allowing you share accomplishments across Xbox One and Windows 10 devices
Continuum - the feature optimises apps and experiences as you move from touch to traditional mouse and keyboard inputs
Phone Companion app - enables iPhones, Android or Windows phones to "work seamlessly" with Windows 10 devices
Windows 10, which Microsoft sees as a single platform to run on everything from desktops to smartphones, tablets, servers, it's Xbox games console and even internet of Things devices, will roll out on Wednesday 29 July, to the millions of people around the world who have been testing beta versions of the software for the last six months.
Known as Windows Insiders these users, along with those purchasing new PCs from the likes of Dell, Lenovo and Toshiba, will be the first to try out Microsoft's all new operating system.
The update will then roll out over the coming weeks and months to current Windows 7 and Windows 8 users as well as being available to purchase as a standalone product. Windows 10 will then become available to smartphone users and Xbox users later in the year, with specific Enterprise and Education editions also available.
Microsoft has also launched a new Windows store and a software development kit for developers to write apps which the company says can be deployed on a huge number of devices - with 2,000 devices or configurations already in testing.
For the first 12 months, anyone currently using Windows 7 or Windows 8 with a valid licence will be able to upgrade for free, as Microsoft looks to get as many people using the software as possible, in a bid to build a critical mass of users which it can then use to entice developers to create apps for its platform.
A new era
Terry Myserson, who heads up the Windows division at Microsoft called the launch "a new era" for Windows:
"From the beginning, Windows 10 has been unique — built with feedback from over 5 million fans, delivered as a service and offered as a free upgrade. Windows 10 delivers on our more personal computing vision, with a natural, mobile and trusted experience. Along with our partners, we're excited to deliver the best Windows ever, which will empower people and organisations around the world to do great things."
While we may no longer see long queues of Windows fans outside stores, the company will host 13 fan celebrations on 29 July in cities around the world as well as launching its #UpgradeYourWorld campaign which seeks to "celebrate people and organisations making a difference around the world" - as well of course as making people aware of the Windows 10 update.
Microsoft is a company in transition as it moves away from its traditional model of Windows as a product to creating Windows as a service and focusing on "mobile first, cloud first" strategy. Part of this strategy has been to actively develop apps for services like Office for rival platforms like Android and iOS over the last 12 months - something which many suggest means that Microsoft's efforts at becoming a third major smartphone platform could be doomed.
Windows 10 Mobile will be launched later this year, but with Lumia smartphone sales plummeting recently, it will be difficult for Microsoft make a mark in this area.
Speaking to BBC News, the company's CEO Satya Nadella said: "Windows 10 is a huge milestone for us as a company, and quite frankly the industry."
Cortana as big as the GUI
Nadella went on to suggest that the integration of the voice-activated digital assistant Cortana - which first appeared on the company's Windows Phone platform - could be as revolutionary as the graphical user interface for personal computing:
"I'm really excited about Cortana. I think of it as [being] as profound as perhaps the PC operating system. If you think about our history in technology, we've had concepts that have changed how people have interacted with their computing resources. One of them was a graphical user interface, the second was the browser and the web. I think of Cortana as the third platform."
Typically the launch of a major new version of Windows 10 is accompanied by a spike in PC sales from Microsoft's hardware partners, but despite many having Windows 10 devices ready for sale from 29 July, Gartner analyst Ranjit Atwal told IBTimes UK he didn't think the new operating system would "move the dial" for these manufacturers.
Love your Windows
However Atwal did see a boost for the manufacturers down the line. By offering a free upgrade from Windows 7 (which accounts for around 61% of all Windows users), and getting that huge install base onto Windows 10, then it has a bargaining chip to tempt developers with.
Atwal says that having seen what Windows 10 can do, it could encourage Windows 7 users to upgrade their PCs so that they can take full advantage of the new operating system's features including touch, Continuum and Cortana.
With initial reviews of the software being broadly positive, Microsoft will be keen to leave the disaster that was Windows 8 behind them, and start again with its revamped software, but it will need to do a lot if they want to achieve Nadella's stated goal of wanting "Windows to go from where users need it, to choose it to loving it."
© Copyright IBTimes 2023. All rights reserved.