Windows 10 launches on 29 July 2015, a unified operating system that will power not just PCs but all Microsoft devices – from phones to tablets to the Xbox One. For gamers this means a radically overhauled Xbox One dashboard.
The original dash was designed for use with the Kinect motion control camera, which was initially a required part of the console's set-up until the court of public opinion forced Microsoft to essentially abandon it entirely.
What's left is an unintuitive and frustrating mess, so the arrival of a new dashboard designed with Windows 10 unification in mind may be welcomed with open arms. Here's what to expect.
Xbox App, Cross-Play and Streaming
Windows 10 on all devices will come with an Xbox app with functionality which works across the board. Friends lists, achievements, chat and the ability to trim and share gameplay clips will be available through this app.
Cross-platform play between Xbox One and PC is also coming, but not with all titles. The highest profile game that will be cross-play is Fable Legends – the free-to-play fantasy RPG from Lionshead Studios.
Other games announced to have cross-play include Game 4 from The Behemoth, Siegecraft Commander, Super Dungeon Bros, #IDARB and Gigantic. When Gears of War: Ultimate Edition heads to PC chances are it will also have cross-play. Gigantic and another game, Pinball FX2, will also have cross-buy – meaning a single purchase for both versions of the game.
Xbox One games can also be streamed from the console to Windows 10 PCs and tablets on the same network.
Quick Menu
To the left of everything is a quick menu, a series of icons below your account's gamertag and picture. Moving over the left of the screen while on the dash will expand these icons to show parties you are in, which friends are on or offline, your messages, notifications and some quick settings.
The quick menu is also accessible in-game. A double tap of the controller's central Xbox button will bring the menu up over your game for quicker access during play.
Home
Microsoft have said themselves that the most important aspect of the dash update is speed. It moves quickly and smoothly from menu to menu and from the dash to the games.
The home page of the dashboard will scroll vertically and bring your most-used apps, games and so on to the top. At the bottom of this will be the apps you have "pinned" for quick access.
There is also more information on screen about what it is you have highlighted. Players will see how many clips they have saved and shared, and how many achievements you've attained. There will also be updates from developers for new DLC and patches and a list of friends playing that game or using that app.
Community
The community tab on the dash will primarily bring up friend activity, but a bar on the right of the screen will show what is trending on Xbox Live – games being played, posted about and videos being shared or downloaded. There's certainly a social networking aspect to all of this.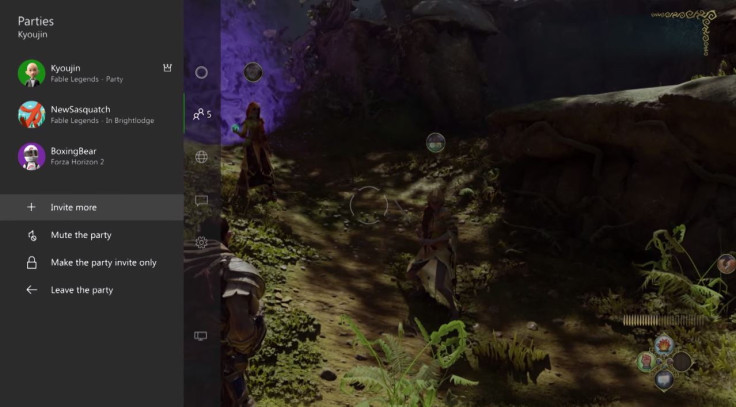 Cortana
Named after the AI companion in the Halo series, Cortana is Microsoft's answer to Siri – and she's heading to the Xbox One dashboard. Basically this is an extension of the Kinect voice-controls but made uniform with Microsoft's branding.
Players can invite friends, start a party and do all the things Xbox One users have always been able to do, but also with the ability for more intricate messages. One example given is of a player asking Cortana to record the last minute of gameplay and share it online in a single message, to which Cortana responds asking what message the player would like to accompany that.
Avatars
Avatars are also making a comeback. Within the Xbox apps you'll be able to tinker with your avatar, customise them, download free items or purchase paid-for ones. The use of avatars has been limited so far in the Xbox One's lifetime, but that will change soon.
Release Date
It will launch this autumn, but no firmer release date is known as of the time of publication.
For all the latest video game news follow us on Twitter @IBTGamesUK.