The new Notification Center which will be a part of Microsoft's upcoming Windows Phone 8.1 update has surfaced via leaked screenshots.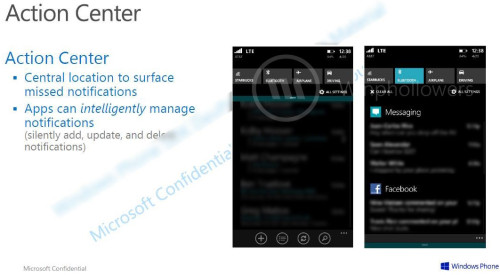 The leaked screenshots are believed to be from an internal Microsoft PowerPoint presentation which have been shared by Winphollowers, revealing details about the new Notification Center.
As the screenshots suggest, the Notification Center in Windows Phone 8.1, a major update to Windows Phone 8, is dubbed as "Action Center". Besides, the leaked version shows the Notification Center or Action Center opens when you do a swipe from the top of the screen to the bottom. There are four basic quick settings in the Action Center such as Wi-Fi, Bluetooth, airplane and driving modes. These features can be disabled and enabled.
The Action Center also displays date and timing as well as battery percentage. If the Notification Center is pulled down further the complete Action Center is displayed. The second screenshot shows how notifications from apps are collected in the full version of the Action Center and these can be added, updated and deleted from there.
Following the leak, the Verge has confirmed the veracity of the photos.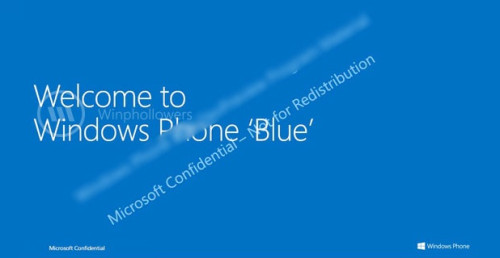 The Windows Phone 8.1 has long been rumoured as Blue. Now one of the screenshots reveals that Microsoft indeed calls it Blue.
Besides, Windows Phone 8.1 is also expected to integrate a Siri-like voice assistant, called Cortana, which will use location-based data from Foursquare. This has been confirmed through Microsoft's recent $15m investment in Foursquare Labs to help Windows Phone offer restaurant and entertainment suggestions to users.
Microsoft, as per the deal, will gain more access to Foursquare's data than the company makes available to other partners. Besides, the data would allow offering tips, suggestions and discounts tied to a user's location.