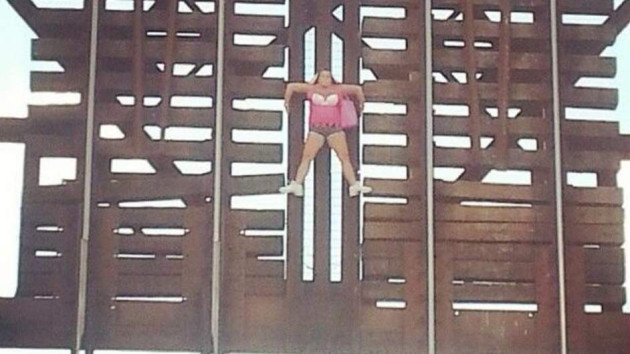 A woman taking part in a charity walk was left hanging 24 feet in the air when a railway bridge opened while she was crossing it.
Witnesses said alarms sounded to indicate that the bridge over New river in Fort Lauderdale, Florida, was about to raise, but 55-year-old Wanda Keating McGowan did not manage to make it off in time, and was left clinging on between two railway tracks.
Witness Philip Glazebrook told NBC6: "So she's stuck on the bridge and she's going up. The next thing is, she's stuck; straddled like Jesus Christ."
Passers-by called emergency services, while others took pictures of the unfolding drama on their mobile phones and McGowan, who was wearing bright pink shorts, cried out for help.
She had to wait 20 minutes before firefighters with a 24 ft ladder were able to take her down to safety, to cheers from onlookers.
"To tell you the truth, honestly I thought it was probably like a stunt or something, it was just that unbelievable," witness Ashanicka Powell told NBC Miami. "I really didn't think she honestly was trapped up there at first.
"They harnessed the ladder up against the actual tracks and a firefighter went and got her and we were all clapping, we were just amazed," Powell said.
Afterwards, McGowan posted a message of thanks to emergency services on her Facebook page: "To all the firemen and police officers. THANK YOU. YOU SAVED MY LIFE. ALL GOOD THINGS TO YOU," she wrote.
It is believed that McGowan, who was on the Making Strides Against Breast Cancer Walk, decided to cross the bridge instead of a nearby pedestrian crossing in order to take pictures.
"To me that just helped in the fight for cancer," Powell said. "So many people that are ready to give up the fight and still are hanging in there - that just symbolised that, because she could have let go at any minute and she didn't."