An inquest heard how 58-year-old mum-of-two Janette Warburton jumped to her death from a multi-storey car park, because she was unable to bear the excruciating pain caused by a cracked filling.
Mrs Warburton, who was also a grandmother, suffered from pain for five years but then an incident on holiday made it much worse.
'Janette was in Tenerife and she bit down on something hard and it really set the pain off,' said Mrs Warburton's sister, Carol Clements, 61. 'This pain was worse than she'd ever felt before and she didn't sleep for weeks. She couldn't eat and she stopped going out because she couldn't cope with the pain.'
It is believed Mrs Warburton suffered from a condition called trigeminal neuralgia which causes pain in facial nerves. It is one of the most agonising conditions known and is dubbed 'the suicide disease'. But it was never definitively diagnosed in her case.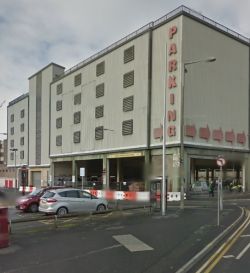 'She started talking about suicide,' says Ms Clements, 'and we didn't know at the time but she'd been researching it on the internet. By the end, she was sleeping just an hour each night and she said she felt like her body was shutting down.'
Mrs Warburton was released from Royal Preston Hospital where she had been an inpatient on March 19 and was visited by Lancashire Care Trust's crisis team, but resisted seeing a psychiatrist.
On March 29 she asked her husband David to drive her to the dentist at Whitegate Health Centre, but on arrival told him she was too ill to be seen. When he went inside to explain she jumped from the fifth floor of Talbot Road car park.
Traffic warden Craig Walker saw Mrs Warburton climbing a barrier and called to her to come back, but she replied 'I'm going,' and jumped.
It was later found she had researched ways to kill herself online. Two notes by Mrs Warburton were found at her home.
Blackpool and Fylde Coroner Alan Wilson ruled Mrs Warburton meant to take her own life and her death was caused by multiple injuries as a result of the fall. There was no evidence of gross failing in her care and she would not have met the criteria to be sectioned under the Mental Health Act.