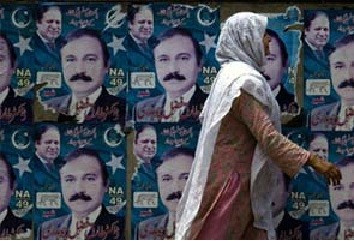 Women in rural areas of Pakistan are being prevented from voting in today's general election, according to local residents.
Messages were broadcast from loudspeakers at mosques warning tribesmen in Taliban-controlled areas of North Waziristan not to allow women to leave their homes to cast their ballots.
In the town of Miranshah, where many women live in purdah, confined to the home and forbidden from going out without a male relative, pamphlets were distributed warning of strict punishments against men who allowed their wives to leave the house.
"Mark our words, this kind of disgraceful act will not be tolerated and anyone influencing women to cast a vote will be punished," said the pamphlets, signed by "Mujahideen" and thrown from vehicles into shops.
In Pakistan's last election in 2008, the female turnout was weak in conservative areas, with not a single vote being cast by a woman in more than 500 polling stations, mainly tribal areas of the Khyber-Pakhtunkhwa and Balochistan provinces.
In the village of Mateela, near the capital Islamabad, a committee of men ruled that no women could take part in the vote. Some said women lacked the mental capacity to vote, while others simply didn't want them to leave the home. Others simply saw voting by women as a waste of time.
"It's the will of my husband," said one woman, Fatma Shamshed. "This is the decision of all the families."
In the most conservative areas, officials estimated women's turnout at just 10-15% of those registered.
The poll, in which around 86 million people are eligible to vote, will bring the first transition between civilian governments in a country ruled by the military for more than half of its turbulent history.
At least 18 people have been killed in bomb attacks and gun battles as millions of voters defied threats of violence to cast their ballots.
Eleven people were killed and more than 40 wounded in a bombing at the office of the Awami national party in the southern port city of Karachi, while another person died and another 10 were wounded in an explosion in the north-eastern city of Peshawar.
In the south-western Balochistan province, where separatists oppose the election, gunmen killed two people outside a polling station in the town of Sorab, while four people were killed in a shoot-out in the town of Chaman, according to police and government officials.
The violence follows a campaign of bombings and shootings by the Taliban targeting rallies by liberal, secular parties, in which more than 130 people have been kilkled.
In response to the threat, the government has deployed an estimated 600,000 security personnel across the country to protect polling stations and voters.