Feminist icon Gloria Steinem is to join the Women's March on Washington that is set to take place the day after President-elect Donald Trump's inauguration. She will serve as an honourary co-chairwoman of the protest alongside chairperson Harry Belafonte.
The march that billed itself as a peaceful protest promoting women's issues, has 158,000 people attending according to its Facebook event page.
Plans for the event began soon after Trump's surprise election victory and will begin near the US Capitol on 21 January.
Steinem announced her involvement with the march on Tuesday (27 December) in a post added to her Instagram account. "Proud to announce my role as honorary co-chair of the Women's march on Washington. See you there?" the 82-year-old activist said.
According to ABC News, the group claims the march will be in response to rhetoric shared by Trump during his campaign that it argues "insulted, demonized and threatened" minorities, immigrants, the LGBTQ community and others.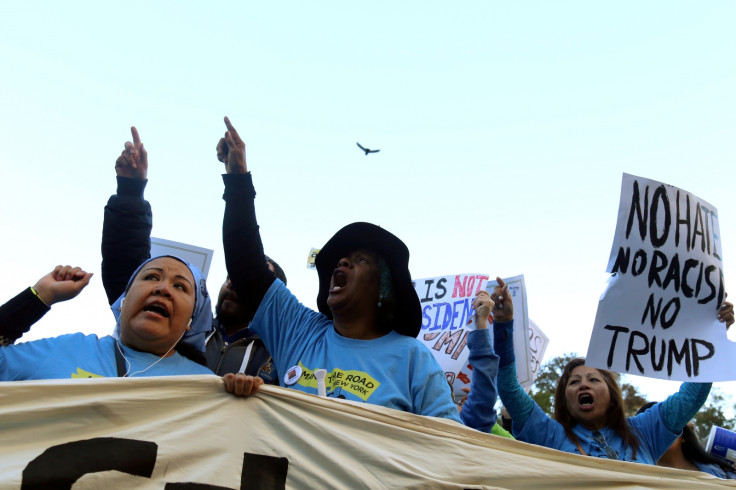 "Our communities are hurting and scared," its mission statement says. "We are confronted with the question of how to move forward in the face of national and international concern and fear."
Steinem's support of the protests does not come as a surprise. She was an avid supporter of Democratic nominee Hillary Clinton, once came under fire for her remarks against women who supported Clinton's Democratic rival Bernie Sanders. The Hill report that Steinem suggested young women who supported Sanders did so only to attract men. She would later apologise for the remarks.
Following Trump's victory, Steinem wrote an op-ed for The Guardian, calling the president-elect "an unqualified candidate who came up not through politics, but through inheriting money, a gift for bullying, and being on television." She lauded Clinton as a woman who "didn't just play the game; she changed the rules".
She concluded: "We will not mourn, we will organise. Maybe we are about to be free".