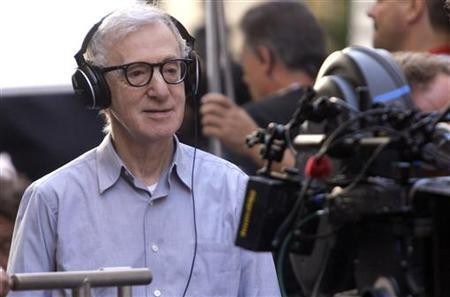 Israeli president Shimon Peres and Jerusalem's mayor Nir Barkat are putting pressure on world-renowned US filmmaker Woody Allen to set his next film in Jerusalem, AFP reports.
It is claimed that Allen, director of films such as Annie Hall and Midnight in Paris, has met Peres and Barkat separately, with both encouraging him to film in the Middle East.
An unnamed official told AFP that Peres met Allen in New York in early 2012. "The issue [of filming in Jerusalem] was raised, and he [Peres] encouraged Woody Allen to come and make a film here," he said.
Jerusalem municipality spokesman Barak Cohen said that Barkat met Allen, together with actress Diane Keaton, at a restaurant in Manhattan to discuss potential film opportunities.
"[Barkat] invited him to come to Israel, but also told Woody that we would love for him to entertain the possibility of filming in Jerusalem, and would do everything possible to facilitate him coming here," said Barkat.
The attempt to convince Allen is part of a larger project to persuade directors to consider filming in Jerusalem, Cohen added.
"Not only is it important to show Jerusalem for all of its beauty and normalcy around the world, but also there's a well-documented history of films creating name recognition for places around the world," he said.
Earlier in July, the Jewish Journal launched an online campaign to persuade Allen to use Israel as the setting for his next movie.