A steamy selfie campaign has been launched to help eliminate the stigma surrounding HIV.
The campaign, #weareALLclean, encourages men to take pictures of themselves in the shower.
It was launched by Jack Mackenroth, an American swimmer, model and fashion designer who was the first openly HIV-positive contestant on US reality show Project Runway.
Money raised from the campaign will go to HIV/Aids nonprofits amfAR and Housing Works. The target is $1,000,000 (£640,000, €804,000).
Mackenroth explained the rules as:
1) Take a selfie or short video of yourself in the shower or bath.**NO EXPLICIT NUDITY**
2) Post your photo now on Moovz and all social media platforms with the caption "Take HIV Shower Selfie Challenge raise $$ for AIDS cure bit.ly/CUREAIDS #weareALLclean"
3) Nominate three or more other people to participate!
4) DONATE! Please donate if you are able. Every dollar counts! bit.ly/CUREAIDS Donate to amfAR at biit.ly/CUREAIDS2
Mackenroth partnered with Moovz – one of the world's leading gay social apps – to launch the campaign. It was launched ahead of World Aids Day, which is held on 1 December.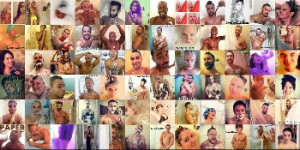 "I was inspired by the use of the word 'clean', especially common in gay culture, to describe oneself as STI/STD free. This implies that HIV-positive people are somehow 'dirty'", Mackenroth said.
"I thought a PG or PG-13 shower selfie or video would be a fun way that everyone could easily show their support on social media for finding a cure by using the hashtag #weareALLclean when they post their photo with the link. Then they donate what they can and nominate three or more other people to participate.
"As someone who has been living with HIV for 25 years this is very personal to me. There is current urgency for funding as we have new treatments that maintain viral suppression and render HIV-positive individuals virtually non-transmissible.
"Those same treatments can be given to HIV-negative individuals and protect them from infection. Essentially we already have the tools to stop the epidemic from spreading. Exciting new research is bringing us closer to a real cure for AIDS every day. I truly hope this campaign goes viral—no pun intended."