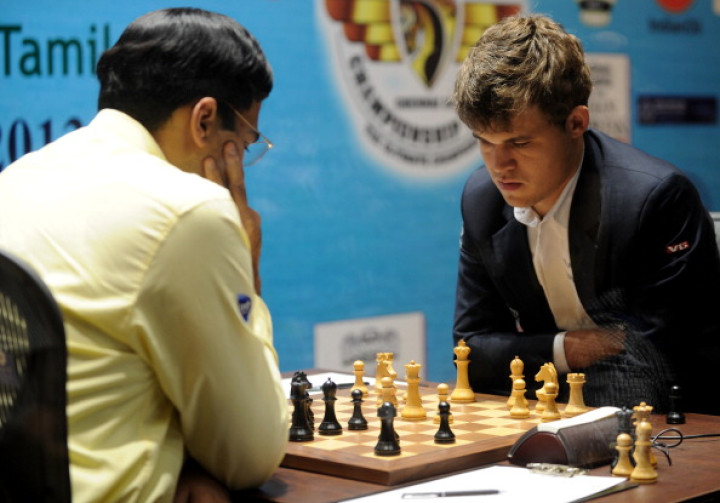 Indian chess Grandmaster Viswanathan Anand has drawn Game 7 of the 2014 World Chess Championship against defending champion Magnus Carlsen at the Main Media Center in Sochi on Friday.
The World No 1 was playing with the white pieces after managing to win his second game in Game 6 with white. Both players agreed to a draw after a long match came to an end after both completed 121 moves.
It was Carlsen's 122nd move when they decided to settle for a draw. Carlsen still has a one point lead as the score is 4-3 in the Norwegian's favour after the end of the seventh round.
Carlsen played Ruy Lopez and avoids Sicilian as his opening. In reply, Anand goes for the Berlin and also avoids Sicilian. The Indian chess Grandmaster started Monday's game without showing much intensity or desire to push harder earlier in the game.
Anand did have an option to castle early in the game and rejects the chance to do the same and prefers the Berlin. His opponent was well prepared for the 44-year-old's plan and was manage to counter that.
After a rest day on Monday, both Carlsen and Anand had a plan prepared for Game 7 was as the completed first 25 moves in just over 20 minutes. The Indian had an extra pawn and also a Rook and despite having two more pieces on the board, he was finding it hard to push for a win.
Anand sacrificed his Bishop in the 31st move - just two moves after taking Carlsen's Bishop from the board. This leaves the 23-year-old with a better position than the challenger in Game 7 as he still has a Rook and a Knight, while the former champion has just a Rook and two pawns more than Carlsen.
The five-time world champion is trying to push further as the black has a very slim chance to convert this game into his favour. Carlsen is trying to get a result from this game, which will help him take a two point lead over his opponent.
After the completion of 46 moves, Carlsen has a Knight and a Rook and two pawns to guard his king. Meanwhile, Anand has only a rook and four pawns, who is supporting his King from any potential threat. Still, there was no signs of Game 7 ending anytime soon.
Both players were dragging the game and pushing for a win. However, they were unsuccessful. In the next five games, Anand will play with white pieces on three occasions and that could give a much needed boost to challenge Carlsen for the championship.