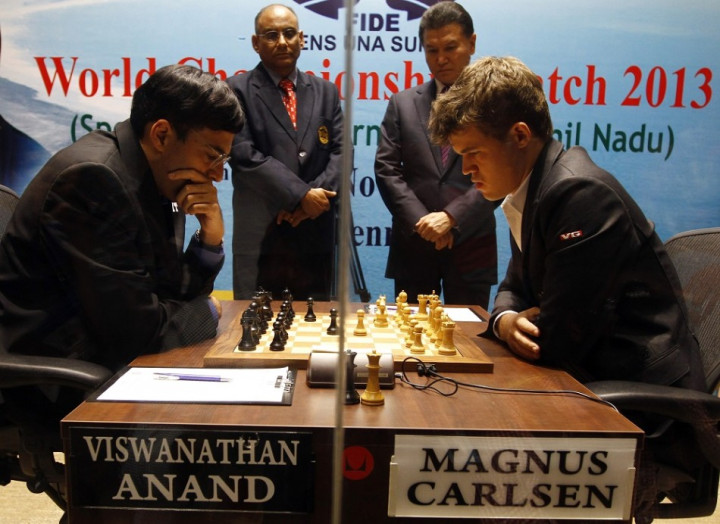 Game 6 of the 2014 World Chess Championship saw defending champion Magnus Carlsen defeat Viswanathan Anand at the Main Media Center in Sochi on Saturday.
The Indian chess Grandmaster was playing with black pieces and the Norwegian has a 3-5-2.5 lead after the end of the sixth round. The outcome of the game was concluded in the 38th move, which led the 44-year-old's defeat.
The five-time defending champion's opening position gave much needed advantage for his opponent and that according to some experts gave the World No 1 the much needed advantage earlier in the game.
Anand had a very good chance to capitalise on Carlsen's blunder after his 26th move, Kd2. However, the Indian moved immediately with a4 and missed a very good opportunity to put pressure on the defending World Chess Champion.
The possibility for Anand was to make Ne5, which could have helped me take the front seat and push towards a win. Following that, he had moves Rxg8 Nxc4+ 28. Kd3 Nb2+ 29. Ke2 Rxg8, which could have changed the course of Game 6.
However, these moves did not take place as 27. Ke2 a3 28. f3 Rd8 29. Ke1 Rd7 was played in those moves. After Anand misread Carlsen's blunder, the Indian did not have any chance to make a comeback nor to force a draw.
So far the games which have been won has been with white pieces and Carlsen will once again be playing with white in Game 7 after the World Chess Championship resumes after a day's rest on Sunday.