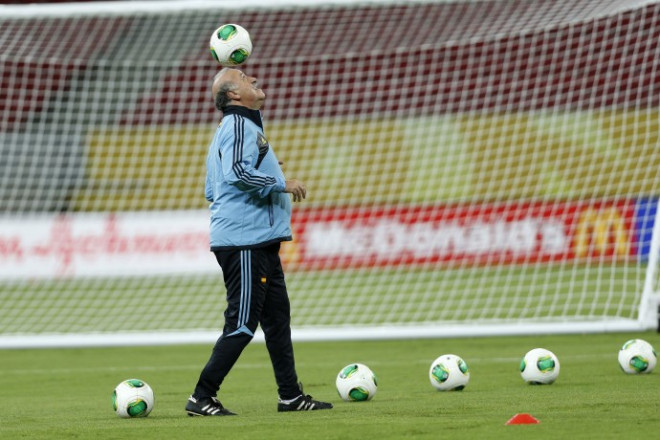 Spanish supporters believe that Juan Mata, Fernando Torres and Santi Cazorla should be removed from the final 23-man squad for the Brazil World Cup, according to a recent poll by newspaper Daily AS.
On Tuesday Spain boss Vicente Del Bosque named his 30-man preliminary squad – with the final squad set to be announced on 25 May.
The Premier League is represented by eight players, including Torres, Mata, Cazorla and Negredo – even though all have struggled to replicate their best form this season.
Daily AS has asked their readers in a survey which seven players should be left out of Del Bosque's final squad and they have voted for Mata, Cazorla, Torres, David Villa, Sevilla youngster Alberto Moreno, Napoli centre-back Raul Albiol and Athletic Bilbao midfielder Ander Iturraspe.
AS readers believe that Negredo should partner Atletico Madrid striker Diego Costa and Juventus star Fernando Llorente up front – even though the Manchester City forward has not scored a goal since last January.
Meanwhile, AS readers would also include Chelsea defender Cesar Azpilicueta and Manchester City duo David Silva and Jesus Navas in their 23-final squad to go to Brazil.
Here are the 30 players who complete Spain's preliminary squad.
Goalkeepers: Iker Casillas (Real Madrid), Pepe Reina (Nápoli), David de Gea (Manchester United).
Defenders: Sergio Ramos (Real Madrid), Gerard Piqué (Barcelona), Raúl Albiol (Nápoles), Javier Martínez (Bayern Múnich), Juanfran (Atlético), Jordi Alba (Barcelona), César Azpiliciueta (Chelsea), Dani Carvajal (Real Madrid), Alberto Moreno (Sevilla).
Midfielders: Xavi Hernández (Barcelona), Xabi Alonso (Real Madrid), Andrés Iniesta (Barcelona), Koke Resurrección (Atlético), Sergio Busquets (Barcelona), Santi Cazorla (Arsenal), Ander Iturraspe (Athletic), Cesc Fábregas (Barcelona), Thiago Alcántara (Bayern Múnich), Juan Mata (Manchester United), David Silva (Manchester City), Pedro Rodríguez (Barcelona), Jesús Navas (Manchester City).
Forwards: Diego Costa (Atlético), David Villa (Atlético), Fernando Torres (Chelsea), Álvaro Negredo (Manchester City), Fernando Llorente (Juventus).