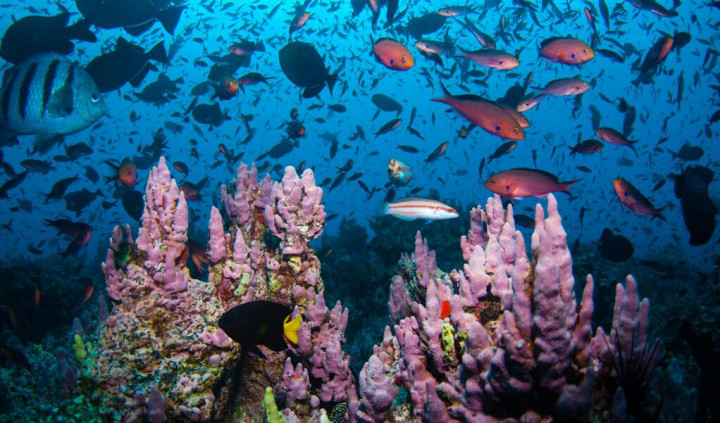 Today marks World Oceans Day, a worldwide movement to protect the marine ecosystem.
The oceans are under great environmental stresses due to growing world population, overfishing and pollution caused by consumerism. Plastics are now thought to make up about 90% of rubbish that clogs the ocean.
"In addition to events in dozens of countries, we invite everyone to take ocean conservation personally by making a commitment and then sharing a selfie for the sea," said World Oceans Day coordinator, Alyssa Isakower.
As part of World Oceans Day 2014, people are urged to join the Selfies for the Sea, with personal pledges for direct action and tagging it #WorldOceansDay.

I'm using a water bottle to reduce plastic pollution for #WorldOceansDay! Thanks @kleankanteen #SeaSelfie pic.twitter.com/C3ArI3YIYn

— Alyssa Isakower (@ialyssai) May 5, 2014
I uploaded a 'Selfie for the sea' and just realized how similar our selfies are @JamieMcDell hahaha pic.twitter.com/M4vPCFlxVi — melanie (@fallingaddicted) June 6, 2014

Join the selfies for The Sea Movement. Take selfie & tag #WorldOceansDays [pic] — https://t.co/pMQRsTWd6n

— Eva Briliant (@EvaBriliant) June 8, 2014
Mediterranea, a 5 years sailing expedition to protect marine ecosystem! Here's our #selfieforthesea! #WorldOceansDay pic.twitter.com/s2YV2HATJV — progettomediterranea (@mediterraneaexp) June 8, 2014
What's your #selfieforthesea for #WorldOceansDay ? Come hang with us Sunday to learn more! http://t.co/M1dpm3LRRP pic.twitter.com/cUY7PncSGT

— Oklahoma Aquarium (@OkAquarium) June 7, 2014
AZA staff is celebrating #WorldOceansDay with a #selfieforthesea. SHARE yours with us. We will pick our favorites! pic.twitter.com/AXXjPepOey — Animals Inc. | AZA (@zoos_aquariums) June 6, 2014
Retweet to celebrate #WorldOceansDay and ask @JohnKerry to support UN #HighSeas protection! #OurOcean2014 pic.twitter.com/EOE84HPm7g

— Greenpeace (@Greenpeace) June 8, 2014