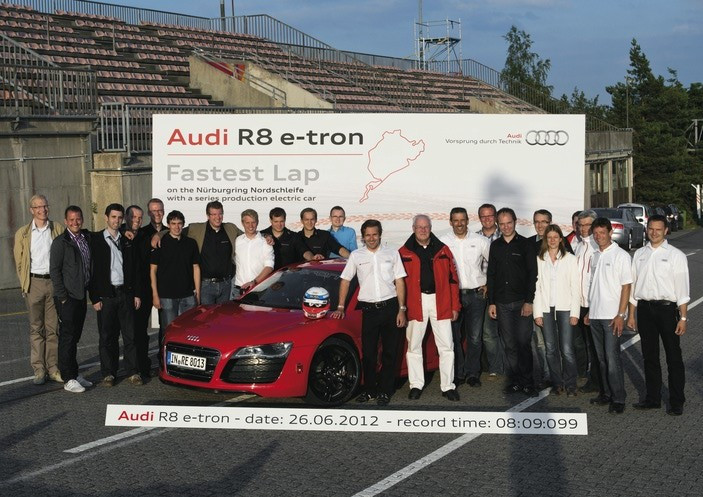 The R8 e-tron by German automobile brand, Audi, has set a world record for a production vehicle with an electric drive system on the Nürburgring Nordschleife track. This track is regarded as one of the toughest in the world located around the village of Nürburg, Germany.
Racing driver Markus Winkelhock piloted the high-performance, all-electric-drive sports car around the demanding 20.8-km track in 8:09.099 minutes.
"The R8 e-tron has given a magnificent demonstration of its potential on the toughest race track in the world," stated Michael Dick, Audi AG Board Member for Technical Development.
Dick, who completed a fast lap himself in the R8 e-tron, added: "The record-setting drive confirmed that we are on the right track. To us, electric mobility has never been about sacrifice, but rather is about emotion, sportiness and driving pleasure."
CNET reported that previously, Toyota set a lap record of 7 minutes, 47.79 seconds for an electric car on the Nurburgring, but its EV P001 is not a production car. Both the Audi and Toyota laps fall behind the 7-minute, 11.57-second record set by a Gumpert Apollo Sport for a production gasoline car.
According to Audi's official website, the Audi R8 e-tron accelerates from zero to 0 to 100 km/h (62.14 mph) in just 4.6 seconds. Its top speed is normally limited to 200 km/h (124.27 mph); 250 km/h (155.34 mph) was approved for the record-setting lap.
"Of course, the R8 e-tron is a production car, not a racing car with the assistance of aerodynamics," German racing driver Markus Winkelhock emphasized. "But with its low centre of gravity and rear biased weight distribution, it brings with it a lot of sporty qualities.
The R8 e-tron's rechargeable lithium-ion battery stores 49 KWh of energy which is enough for a distance of about 215 km. Its "T" shape allows it to be installed in the centre tunnel and in the area between the passenger compartment and the rear axle. It is charged by energy recovery during coasting and braking. The ultralight car body of the Audi R8 e-tron is made primarily of aluminium, along with CFRP components; this is the main reason the high-performance sports car weighs just 1,780 kilograms (3,924.23 lb), despite the large battery.