World's most expensive burger sells for $10,000
The seven-patty burger was bought at a charity auction in Dubai.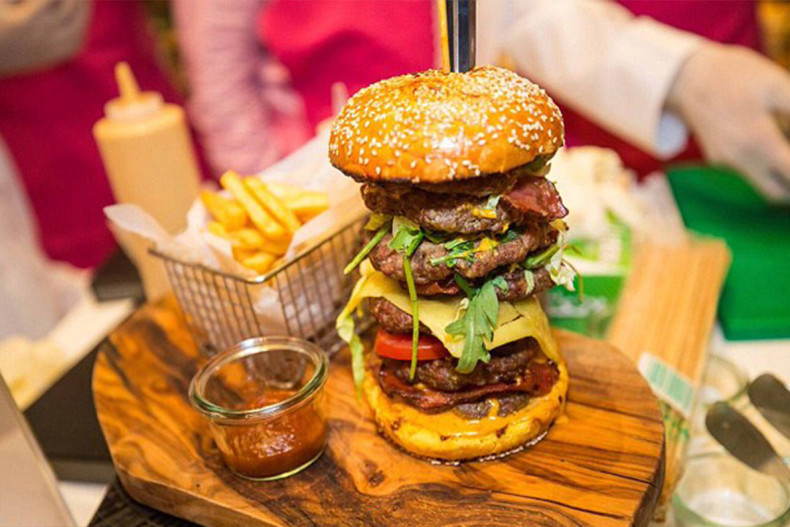 The world's most expensive burger has been sold for $10,000 (£8,000) at a charity auction in Dubai.
The 'Seven Emirates Burgerstack' was made of seven beef patties, one for each of the emirates in the United Arab Emirates, aged old cheddar and veal bacon strips in a saffron brioche bun.
It was prepared by Russell Impiazzi, the culinary director of Le Gourmet, a restaurant in Dubai's Galeries Lafayette, and Sheikh Mohammed bin Abdullah Al Thani.
The burger was bought by Asma Al Fahim, the founder of Dubai lifestyle magazine Villa 88, at an auction raising money for the breast cancer charity Pink Caravan.
"Two years ago we broke the world record by selling one burger for $7,000, and this year we wanted to top that," Sheikh Al Thani said. "Of course all proceeds will go to breast cancer awareness and free detection at an earlier stage."
"One burger bought for $10,000! This was an incredible feat for not just the Pink Caravan and its supporters, but for everyone who supports a good cause in the world," said Reem BinKaram, the charity's chairwoman.
The pricey dish was one of four sold at the auction. Dubai's top chefs showed off their culinary skills with decadent dishes such as lobster kibbe with avocado labneh and seafood risotto with pistachio and dried cherry tomatoes. In total $29,633 (£24,000) was raised for the charity.