Worldwide personal computer shipments fell in the third quarter of 2013 for the sixth straight quarter , but research firm IDC claims the worst might be over for an industry affected by surging tablet sales.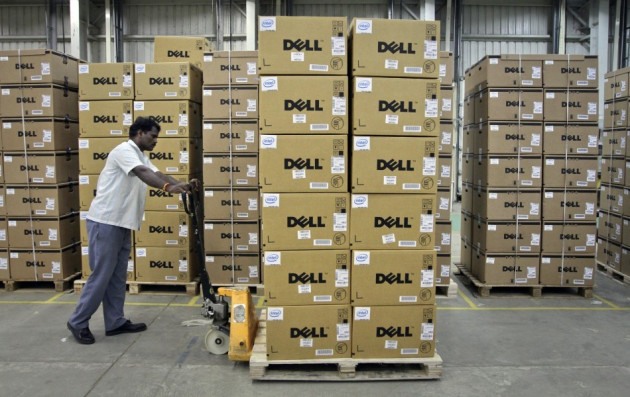 The IDC's Worldwide Quarterly PC Tracker estimates that total shipments were 81.6 million units for the third quarter, down 7.6% on the same quarter last year, marking the industry's sixth straight quarter of negative growth with analysts predicting the slump is likely to continue into 2014.
In September the IDC predicted that in tablet shipments will surpass total PC shipments in the final quaerter of 2013, and that by the end of 2015 tablet shipments will also be higher on an annual basis. Between 2013 and 2017, the IDC expects tablet shipments to increase by 78.9%, while desktop PCs will fall by 8.4%.
But there may be signs of recovery, as the PC market (including desktops and laptops) has improved from the 11.4% dip seen in the previous quarter, and IDC had originally forecast a fall of 9.5%. Fellow research company Gartner estimates PC shipments to have slipped 8.6% in the same period.
Looking ahead to the Q4, the IDC expects PC shipments to be 83.1m, down 5% from the final quarter of 2012.
Lenovo remained the world's largest PC manufacturer, with shipments for the quarter up 2.2% on last year, while second place HP and Dell in third saw small increases of 0.4% and 0.3% respectively. These compare positively to losses of 1.4%, 7.7% and 4.2% last quarter for the top three respectively.
Lenovo now commands a 17.3% share of the worldwide PC market, up from 16.7% in the previous quarter.
Not as bad as predicted
But it was the consumer-focused companies of Acer and Asus which saw the biggest declines, with shipments down 34.5% and 34.1% respectively.
Although the overall figures weren't as bad as predicted, IDC expects the PC market's downward trend to continue.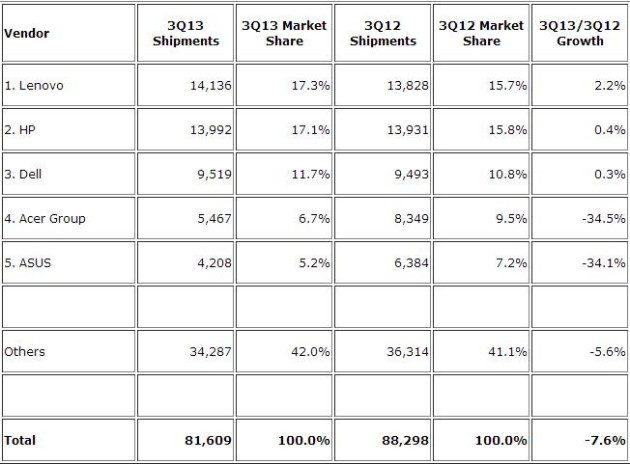 Loren Loverde, vice president for IDC's Worldwide PC Tracker, said: "The third quarter was pretty close to forecast, which unfortunately doesn't reflect much improvement in the PC market, or potential for near-term growth.
"Whether constrained by a weak economy of being selective in their tech investments, buyers continue to evaluate options and delay PC replacements. Despite being a little ahead of forecast, and the work that's being done on new designs and integration of features like touch, the third quarter results suggest that there's still a high probability that we will see another decline in worldwide shipments in 2014."
US close to positive growth
Although small, the recovery is being driven by the US, where PC shipments were down just 0.2% for Q3, an improvement on the 1.9% decline in the previous quarter. IDC cited emerging product categories and a greater range of Windows 8-based models as reasons for the improvement, along with companies upgrading from the ageing Windows XP to WIndows 7.
Gartner also has some hope for the US market, with principal analyst Mikako Kitagawa saying: "Tablets will continue to impact the PC market, but the US PC market will see a more moderate decrease rather than a steep decline in the next two years."
In Europe, the Middle East and Africa PC shipments fell in line with IDC forecasts, a continuing trend blamed on weak consumer demand amid an ongoing shift from PCs to budget tablets.
Gartner analyst Ranjit Atwal said: "The demand for PCs in the Middle East and Africa also continued to slow as tablet adoption increased - particularly in the Middle East."