Former lightweight champion Eddie Alvarez has revealed how difficult it was to recover from his one-sided defeat to Conor McGregor at UFC 205.
Alvarez (28-5 record in MMA) headlined the UFC's first pay-per-view at Madison Square Garden in New York alongside the Irishman in what was undoubtedly the biggest fight of his career.
However, his performance on the night was a demoralising one, barely offering any offence and getting dropped multiple times before he was ultimately finished via TKO in the second round by McGregor.
Now back in action on Saturday (13 May) at UFC 211, where he takes on Dustin Poirier, the former Bellator champion is looking to climb back up the top of the division despite initially taking some time to get to grips with the defeat.
"Climbing back from the Nov. 5th fight was difficult," Alvarez said on The Luke Thomas Show. "I'd be lying if I told you, 'Oh I just bounced right back off the mat.' I needed some serious dusting off. I needed to forgive myself. I'm my own worst critic so I was very disappointed and pissed off at myself about Madison Square Garden."
"I sat around longer than what I would've like to. I would've like to just bounce back and just get over it already but it was difficult. It was difficult for me. I put a lot into this so it was difficult but we're over it and I'm having a great time with training and enjoying myself.
Alvarez also talked about how his performance against McGregor was like his "worst nightmare come true" but looked at the positive side of things.
"I think there's a freedom in having your worst nightmare come true," he added. "As a fighter, your worst nightmare is to get knocked out in front of millions of people. That's like the dream of waking up naked in your classroom."
"So getting that out of the way, there's a freedom in it for me. I never thought it would happen. I never pictured it or visualized it ever happening to me and it happened. I realize after it happened, nothing changed. Nothing changed. My family's still here, my friends are still here. I'm still the same person.
"Everybody just wants me to fight again and do well again. Nothing really changed. So there's a freedom in it and if you haven't experienced it then you won't be able to feel the freedom that I have right now."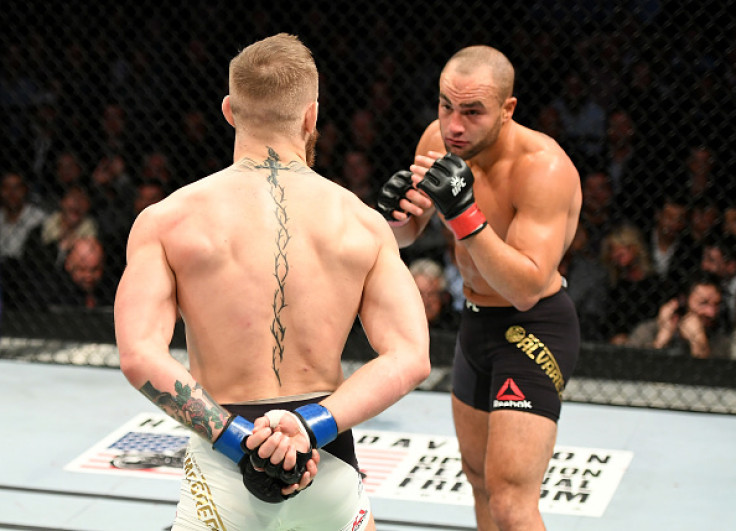 Looking ahead to Dallas now, Alvarez, who is aiming to make a statement at UFC 211, has a plan mapped out on what his future goals in the lightweight division are.
"The UFC's pretty crazy," he explained. "There's a couple other guys in front of me but it really depends on how you fight and what kind of show you put on."
"But I don't care. I want to knock out Dustin and then I want to get Nate Diaz off his bicycle and get him back in the cage in some way, shape, or form."