As expected, Microsoft will be holding a media event on 21 May to announce its next generation Xbox games console, codenamed Durango.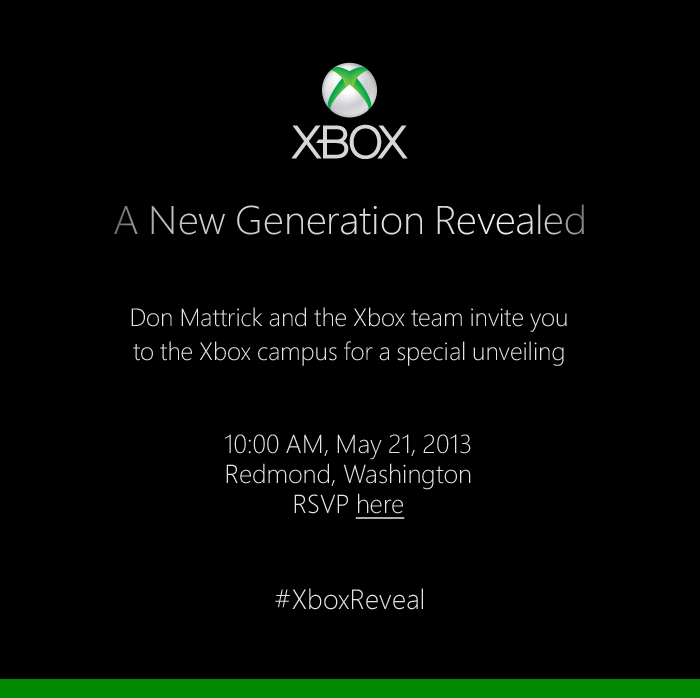 Rumours about the console have gathered pace in recent weeks since rival Sony announced its PlayStation 4 console in February and a debate about 'always-on' gameplay and backwards compatibility with Xbox 360 games has raged ever since.
The invitation, sent out to journalists on Wednesday reads: "A new generation revealed. Don Mattrick and the Xbox team invite you to the Xbox campus for a special unveiling." The event will take place at 10am (6pm GMT).
Must read: Xbox 720 - Everything you need to know
Xbox spokesman Larry 'Major Nelson' Hryb said in a blog post: "On Tuesday 21 May, we'll mark the beginning of a new generation of games, TV and entertainment. On that day, we'll be holding a special press event on the Xbox campus and we invite you to join us via the live global stream that will be available on Xbox.com, Xbox Live and broadcast on Spike TV."
Hryb promises to show Microsoft's "vision for Xbox and give you a real taste of the future. Then, 19 days later at the Electronic Entertainment Expo (E3) in Los Angeles, we'll continue the conversation and showcase our full line-up of blockbuster games."
Microsoft is yet to say more officially about the new console, but recent rumours point towards a device that will be the heart of your home entertainment system, not just a gaming machine, with tight integration with cable TV networks.
As for hardware, recent rumours point towards an eight-core, 64-bit processor running at 1.6GHz, a Blu-ray drive and 500GB of internal storage as standard, along with a second-generation Kinect sensor able to more accurately track body movement.
Much has been said about backwards compatibility with the Xbox Durango (the ability to play old Xbox 360 games on it) but a recent report from Bloomberg claims the console's new x86 processor architecture means playing old games will be impossible, though Microsoft may explore the option of selling older Xbox and Xbox 360 games through the new console's online market place.
For everything you need to know about the new Xbox console, read our complete guide covering every major rumour and scrap of speculation to date.