The internet is abuzz with widespread news of a dirty little trick to enable Xbox One backward compatibility for playing Xbox 360 games. The steps for unlocking this backward compatibility went viral through a leaked image showing the Xbox One logo with the title: "Xbox 360 Backwards Compatibility Unlock."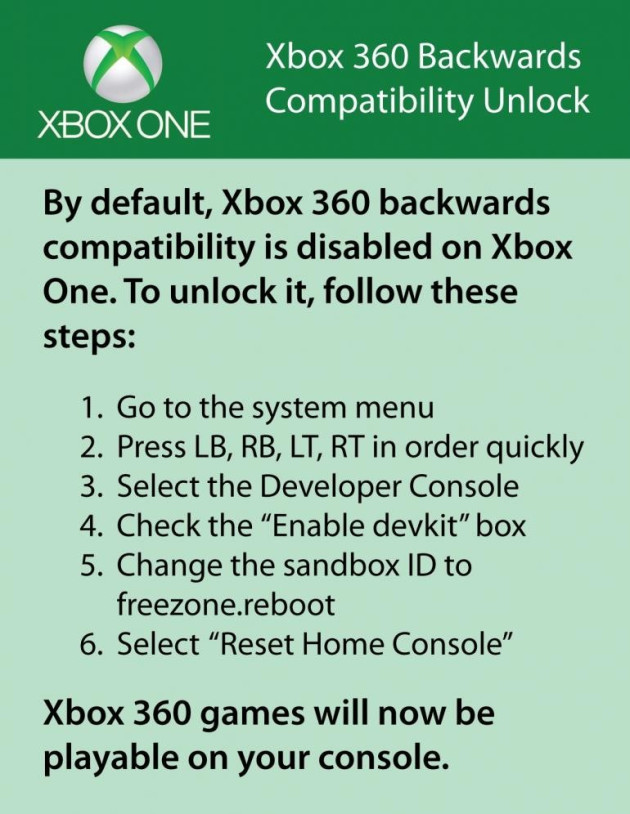 It was later ascertained that the trick was actually faked in order to prey upon unsuspecting users, and render their next-gen game consoles completely inoperable or bricked.
As the Verge points out, any Xbox One user can access the system's dev kit via Developer settings by following the fake unlocking steps. The code for unlocking was apparently posted on a YouTube video by GameTuts, and later Microsoft's Larry Herb (Major Nelson) warned users via Twitter to avoid the trick as it could force the device into a boot loop and effectively make the console inoperable.
Here is what Major Nelson tweeted to users, while warning them about the non-existent backward compatibility unlock for Xbox One: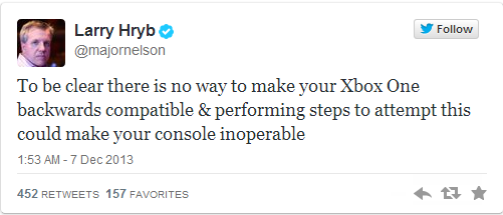 Meanwhile, Microsoft has issued an official statement via Eurogamer cautioning Xbox One gamers about the ill-consequences of blindly following the YouTube instructions to unlock the console through Developer Settings menu:
"Changing the settings in this menu is only intended for developers for Xbox One, and this alone does not turn the console into a development kit. We strongly advise consumers against changing these settings as it could result in their Xbox One becoming unusable. Customers who have put their consoles into this developer setting can revert by restoring factory defaults under Settings / System, select Restore Factory Defaults."
A Reddit user earlier claimed that the prank first appeared on 4Chan in the form of a fake image, posted on Imgur. The image depicts the method of unlocking the Xbox One in six simple steps to make it backward compatible for playing older Xbox 360 games.
As Eurogamer notes, another Reddit user (an Xbox One developer) has warned gamers: "Please don't mess with anything here for the time being, especially the sandbox ID."
"You risk putting your box into a boot loop," adds the developer.
The prank seems to feed off one of the biggest complaints from console gamers regarding the limitation of playable game titles. With Xbox 360 and PS3 boasting a large library of game titles, Xbox One owners feel a bit cheated with just about a handful of new titles accessible on their next-gen console.
On a positive note, Microsoft seems to be keen on unlocking more development options to the masses with the launch of XboxOneDev project in the near future. However, those who missed the action can watch GameTuts' YouTube video, which reveals how to turn your Xbox into a Devkit (do not attempt, you may brick your device):