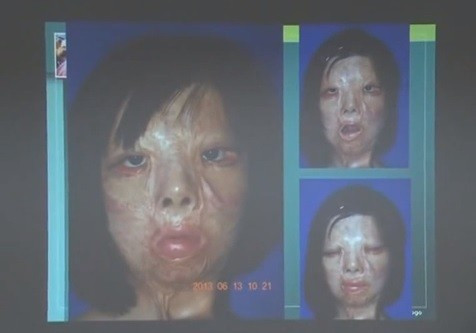 A badly disfigured teenage girl from China's Fujian province has had a replacement face grown on her breast by doctors.
Xu Jianmei was disfigured by a fire when she was five years old. Now 17, she lost her chin, eyelids and an ear in the blaze.
As her parents, who live in a small fishing village, were poor she was not able to receive plastic surgery and has spent more than a decade living with the physical and psychological damage.
But breakthrough surgery has restored hope to the girl. She was able to smile for the first time in 12 years after when succeeded in growing a new face on her breast and then performing a face transplant.
The surgery involved using a blood vessel from her leg and a water-filled balloon to expand her skin.
The new face was then "grown" for several months until it was large enough to cover her missing facial features. Her family did not have to pay for the procedure.
According to her surgeon, Jiang Chenhong, the eight-hour operation would enable Xu to express herself more precisely.
"She will even be able to blush when her emotions change, but it will take a long time," he said.
"First, we took a piece of blood vessel fascia from her thigh and implanted it in her chest. Then we inserted a skin expander beneath the part of skin where the blood vessel fascia was planted, so that the part could expand and produce enough skin for her new face."
The wounds from Xu's surgery are expected to heal over the next few weeks.
In September, Chinese doctors performed a similar type of surgery on a man who damaged his nose in a car accident. A new nose was grown on 22-year-old Xiaolian's head.