Anti-Semitic and Pro-Hitler Graffiti Defaces Yad Vashem Holocaust Museum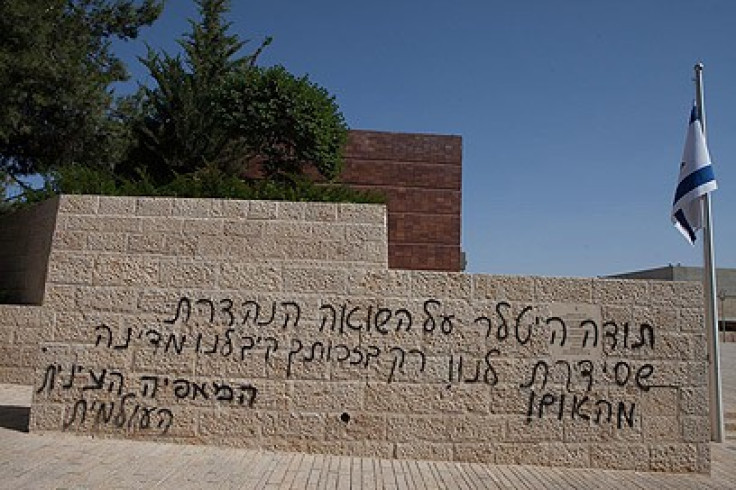 Ultra-orthodox Haredi Jews are the main suspect for anti-Semitic graffiti that that has been daubed over the Yad Vashem Holocaust memorial in Jerusalem, police said.
More than 10 slogans painted in black, red and white were found in Warsaw Ghetto Square and on the memorial to Jews sent off to the Nazi death camps.
"We are checking in other directions but right now we believe that [the attack] was carried out by extremists," Shmuel Ben Ruby, Jerusalem police spokesman, said. He added that one slogan read: "Haredi World Committee".
Others sang the praises of Hitler. "Thanks Hitler for the wonderful Holocaust you organised for us!" read one. "Only because of you we received a state."
Another one said. "Jews, wake up, the evil regime does not protect us, it only endangers us.
"There will be an alternative museum to Yad Vashem - the selection," "The Zionist leaders wanted the Holocaust", "The war of the Zionist regime is not the war of the Jewish people" and "If Hitler hadn't existed, the Zionists would have invented him." were also scrawled at the site.
All the graffiti were signed with "The global cynical mafia".
The Haredi are a small but active fringe ultra-orthodox group that opposes the state of Israel.
Yad Vashem director Avner Shalev said there was no doubt the vandalism was carried out by ultra-Orthodox extremists.
"One of the slogans was signed with the words 'World Haredi Jewry'," he said, using the Hebrew word for ultra-orthodox Jews. "This time, a red line has been crossed."
© Copyright IBTimes 2023. All rights reserved.