Activists from group Lesbians and Gays Support the Migrants have "glitter bombed" security firm Serco in protest against their treatment of refugees held at the Yarl's Wood detention centre.
The security firm's London HQ was showered in glitter on 9 March by activist wearing pink masks and wigs, chanting 'shut down Yarl's Wood'. The detention centre has long been criticised for reportedly poor conditions in which refugees and asylum seekers are kept, and the fact that they are detained at all, while awaiting 'immigration clearance'.
Alex Jones from LGSMigrants said: "The widespread suffering of migrants at Yarl's Wood detention centre is directly feeding into Serco's profit margins. Locking up people who have committed no crime is a disgrace. It's outrageous that Serco is still allowed to operate despite multiple claims of sexual harassment and medical neglect. We should be welcoming migrants, not detaining them in dehumanising conditions."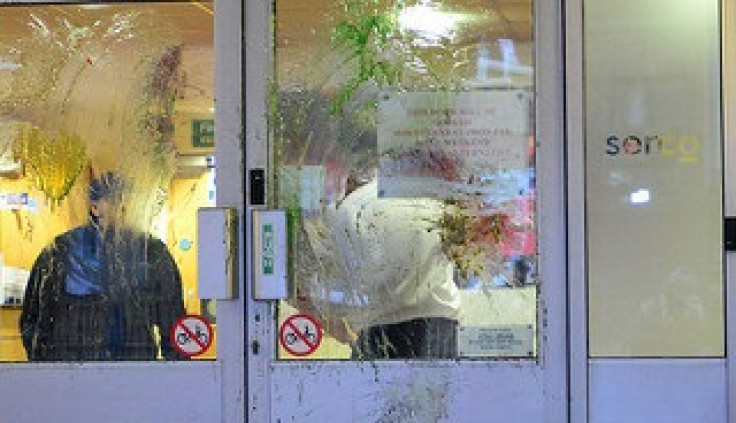 Despite criticism from campaigners, Serco in November 2014 won a £70m contract to continue running Yarl's Wood for another eight years.
In a government review, Yarl's Wood was described as a 'place of concern', BBC reported in August 2015, while there have also been allegations of physical assault, sexual harassment and neglect of medical conditions at the facility, according to a whistle-blower.
Further protests against the detention centre are planned for the weekend, with thousands of activists reportedly set to descend on the Bedford facility. Sam Bjorn from LGSMigrants added: As queer people we refuse to stand by silently while Serco is imprisoning LGBT+ asylum seekers and other migrants. The ongoing resistance of the women inside Yarl's Wood in a massive inspiration to all those who stand in solidarity with the fight against detention centres and forced deportations."
Serco declined IBTimes UK's request for comment.