Yarl's Wood Immigration Centre: Why Serco's Contract Renewal is a Disgrace
It was only in October 2013 that the chief inspector of prisons said the Serco-run Yarl's Wood Immigration Removal Centre had "a troubled past, punctuated by serious disturbances and controversy surrounding the detention of children".
But despite still being under investigation by the Serious Fraud Office, and despite frequent criticism from campaigners and authorities - outsourcing giant Serco has just won a £70m contract to continue running Yarl's Wood for another eight years.
There are broad questions over the nature of immigration detention in the UK. Failed asylum seekers and illegal immigrants are locked up in privately-run detention centres before being deported, though there is no set amount of time for which they can be held.
The centres, which house around 3,000 migrants including children at any one time, have been accused of having poor conditions and operating like jails.
Many detainees are vulnerable and have fled hardship, oppression and violence. Some are caught between states – the UK refuses them entry and their home country won't take them back, having cancelled their passports.
Those running these centres have a duty of care to those forced to live inside them. Which is why Serco's contract renewal for Yarl's Wood, which primarily houses single women in its 410-bed centre, has been attacked as "unacceptable".
Natasha Walter of Women for Refugee Women told the BBC she was "more than disappointed".
"Serco is clearly unfit to manage a centre where vulnerable women are held and it is unacceptable the government continues to entrust Serco with the safety of women who are survivors of sexual violence," she said.
The Home Office said it ran a proper tendering process and Serco offers the highest quality service at the best value, which is why it won the renewal bid.
Serco said it is making a number of improvements to its service and investing in better facilities at Yarl's Wood, which it has managed since December 2006.
But there still appears to be little recourse or retribution for companies with black marks on their reputation. Here's why Serco should not have won the new contract.
There have been disturbing reports of abuse coming out of Yarl's Wood.
Two Yarl's Wood staff members were sacked by Serco in 2013 after having sex with a Roma detainee, while a third man was also booted out for failing to report what happened despite knowing about it. A claim of sexual assault couldn't be substantiated by police.
A surprise inspection by HM chief inspector of prisons Nick Hardwick said this was clearly "abusive", but found no "wider culture of victimisation or systematic abuse". Though he did identify a number of worrying incidents.
Despite government policy not to detain pregnant women unless there are exceptional circumstances, they had been detained at Yarl's Wood – without evidence of justification.
Those with "clear trafficking indicators" had not been referred to the appropriate public body which would help and support trafficking victims.
Some women had been detained for long periods of time, with one having been at the centre for almost four years. And "several obviously mentally ill women had been detained before being sectioned and released to a medical facility".
A former nurse at Yarl's Wood blew the whistle on what he claimed "around mental health, safeguarding and risk there were serious issues, serious gaps that needed to be closed quickly".
"The system wasn't driven for mental health. It was more driven about, 'Are they fit to fly, physically?'" Noel Finn told the BBC.
Another whistleblower claimed in the Observer that there was a general anti-immigrant feeling among staff and a disbelief of women who said they were sexually abused, something Serco rejected.
"Officers would say openly: 'They need to go back, they need to leave the country, they're only coming here to use NHS resources'", the anonymous source claimed.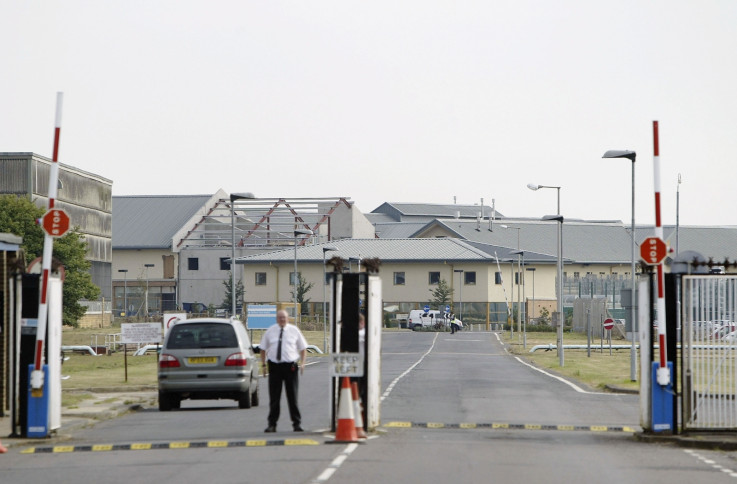 The entrance to Yarl's Wood detention centre, run by Serco
Getty Images
Serco has failed child detainees in the past.
A 2009 report by the Children's Commission criticised Yarl's Wood for failing to assess the mental and physical health of children on arrival at the centre and not acting on psychological warning signs, such as screaming in the night and wetting themselves.
And it said the children in detention did not receive the same standard of NHS care as others in the UK because they often had to wait long periods of time before being seen by a doctor.
"Preventative healthcare arrangements prior to removal, for example immunisations and the provision of malaria prophylaxis, were found to be so inadequate as to endanger children's health," said the report.
Serco made improvements which were recognised in a follow up report in 2010. But the Children's Commission still found problems.
"Whilst healthcare standards have generally improved, there are still significant areas which require attention," it said.
"Failure to adequately prepare children for returning to their country of origin has meant on occasion, children have been removed from the UK without being given adequate malarial prophylaxis.
"There have also been reports of unacceptable delays in providing treatment. In one case, a mother informed the nurse at 11.20pm that her five year old child had fallen earlier in the playground. The child could not lift her arm and was not seen by the GP until 2.05pm the next day and went to A&E at 7.02pm. She had a fracture."
Serco has conned taxpayers in the past.
Alongside rival G4S, Serco was caught up in the electronic tagging scandal. Under its contract with the Ministry of Justice to carry out the electronic tagging of offenders, Serco had overcharged taxpayers.
It had claimed payments for tagging work that was never carried out, such as because the offender was still in prison or dead.
Serco repaid £68.5m to the government in compensation. It's still under investigation by the Serious Fraud Office over the scandal.
And a report by the National Audit Office found that Serco staff on its out-of-ours GP care contract for Cornwall – worth £32m – overstated the firm's performance.
Moreover the report found that Serco had "been unable to fill shifts with appropriately qualified staff with the result that the out-of-hours service was unsafe".