Scientists in Switzerland have said former Palestine leader Yasser Arafat may have been poisoned with the same radioactive substance used to kill Russian spy Alexander Litvinenko.
Toxicologists from the University of Lausanne confirmed they have found traces of polonium-210 on the clothing of Arafat after the claims first arose last year.
Arafat died in France in 2004 aged 75. No post-mortem was carried out at the time to determine a cause of death, at the request of his widow Suha Arafat.
His body was eventually exhumed in 2012, partly to investigate whether he had been poisoned - a suspicion which grew following the death of former KGB agent Litvinenko from polonium-210 poisoning in 2006.
A report published in the journal Lancet has now confirmed that 38 items belonging to Arafat - including underwear and toothbrush - had tested positive for polonium.
These were tested against 37 other items of Arafat's clothing that had been kept in an attic for 10 years, which were provided to the scientists by his widow.
The report says: "Several samples containing body fluid stains (blood and urine) contained higher unexplained polonium 210 activities than the reference samples.
"These findings support the possibility of Arafat's poisoning with polonium 210."
The authors added: "Although the absence of myelosuppression [bone marrow deficiency] and hair loss does not favour acute radiation syndrome, symptoms of nausea, vomiting, fatigue, diarrhoea, and anorexia, followed by hepatic and renal failures, might suggest radioactive poisoning."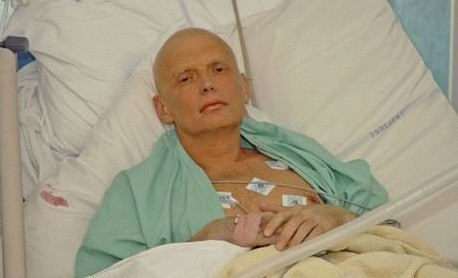 The report does not allege if Arafat was deliberately poisoned or whether he could have accidently come into contact with the radioactive material. Instead, they note regret in that his body was not examined sooner.
The scientists said: "An autopsy would have been useful in this case because although potential polonium poisoning might not have been identified during that procedure, body samples could have been kept and tested afterwards."
Palestinians have long thought Israel to be responsible for the death of Arafat, who has been heralded as a Palestinian national hero. The Israeli government has always strongly denied the suggestions.
Litvinenko, 43, died in November 2006 after he was poisoned with Polonium in London. It is alleged that his tea had been laced with the highly-radioactive material when he met two former Russian colleagues, Andrei Lugovoi and Dmitry Kovtun, at the Millennium Hotel in Mayfair.
He died three weeks later in University College Hospital. His family released a photograph that revealed the damaging effects of the poison on him.