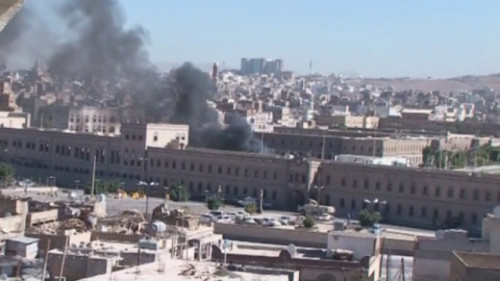 Unidentified gunmen have kidnapped a British oil worker in Yemeni capital Sanaa, as three large explosions, including one near the residence of the former president, rocked the trouble-torn city.
In the second case of abduction of western expatriates in four days, a British national was kidnapped at gun point near a grocery store in heavily patrolled Hada area of the capital, news agencies reported.
"Gunmen in a car kidnapped the British man at around 9:00 am (0600 GMT) near a grocery store in Hada," Agence France-Presse reported, citing an oil industry official.
The British embassy in Sanaa said it could not confirm the news though it was aware of the development.
According to witnesses, the victim was about to step into his car after buying groceries when he was hit with the butt of a gun and dragged into a waiting car.
Late last week Yemeni tribesmen kidnapped a 60-year-old German from the city. The kidnappers said they took the foreigner to add pressure on the government for the release of detained fellow tribesmen.
Commercial enterprise
While hundreds of people have been kidnapped in the lawless city in recent years, most of these are for commercial, not political, reasons, experts have said. The tribal gangs either use the victims as bargaining chips in disputes with the government or make ransom demands.
"I don't think there's a political motivation behind the kidnappings... It's just a lucrative job. if a gang can kidnap and make money, why not?" Al Arabiya News quoted Mustapha Noman, Yemen's ambassador to Spain, as saying.
Peter Lehr, a lecturer in terrorism studies at the University of St. Andrews agreed that most of these kidnappings are a "commercial enterprise".
"If it's basically somebody from the West, American or British, then there might be kind of a political agenda, but even then, it's mainly about money."
Meanwhile, Reuters reported heavy explosions taking place near the defence ministry, the central bank and near the residence of former president, Ali Abdullah Saleh.
The number of casualties was not immediately known, the agency said.