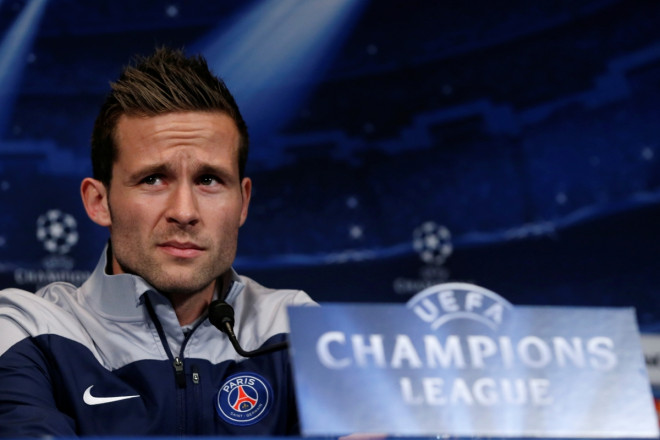 Former Newcastle United midfielder Yohan Cabaye has revealed that he regrets at not joining Arsenal last summer.
The France international was strongly linked with a move to the Emirates before the start of the season. The Gunners manager was keen on signing his compatriot. However, no deal took place as Cabaye continued with the Tyneside club for the first half of the season.
The 28-year-old was also on the north London club's radar in the winter transfer window. However, Cabaye left St James' Park and completed his switch to Paris Saint-Germain in January. The Frenchman has expressed his regret at not working with Arsene Wenger at the Emirates.
"I would have liked to play for Wenger last summer but, unfortunately, it didn't happen," Cabaye told Telefoot.
The former Magpies star revealed the Ligue 1 champions approached while he was at Lille. However, he rejected an offer from PSG in order to join Newcastle in 2011.
Cabaye claims he is happy at Parc des Princes and has set his sights on winning the league and the Champions League with his current employers.
"I was approached by PSG and Kombouare but it didn't happen, then I went to England. If we have the possibility to snatch the Champions League, we will do it," he said.
"[Zlatan] Ibra[himovic] is doing extraordinary things and Thiago [Silva] is a monster at the back. It's a new challenge. I want to last here and to win. It is my destiny," the former Newcastle midfielder concluded.
Arsenal's failure to capture Cabaye has not stopped them from hitting the top form in the league this season. The Gunners registered a 1-0 win over their arch rivals Tottenham Hotspur at White Hart Lane.
The victory has kept Arsenal still in the title race. Wenger's side are third in the table with 62 points from 29 games, level on points with second place Liverpool and four behind league leaders Chelsea.
In the FA Cup, Arsenal have made it to the last four of the competition as they take on Wigan Athletic in the FA Cup.