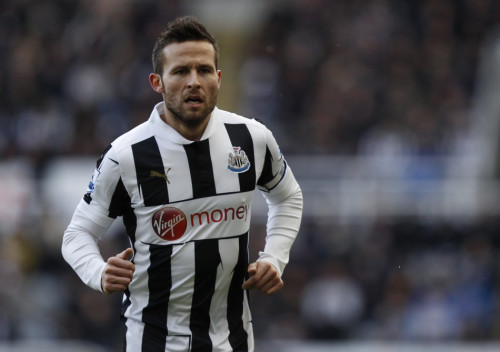 Best rumour of the day
Newcastle manager Alan Pardew has admitted he is nervous after hearing the news that France midfielder Yohan Cabaye is set for a move to Paris St-Germain.
Cabaye is rumoured to be on the verge of joining for £26m which will see him return to his homeland after the Magpies successfully fought off interest from Arsenal in the summer.
The 27-year-old has scored eight goals in 19 appearances and remains a central player in Pardew's squad.
"All the transfer windows as manager of Newcastle are nervy and I will be nervous until it closes," said Pardew.
"Everybody is for sale at some price, but we're conscious that we have a good team and we will try to keep it together."
He added: "Yohan has almost a free role in the No. 10 shirt and he has enjoyed that.
"He has added goals to his game. The first one was a class individual goal - the touch and the way he moved and the sublime moment he took to finish it.
"He was a class act all day. He has been a big player for us and it has helped us get a nice rhythm in midfield."
Worst rumour of the day
West Ham United manager Sam Allardyce has rather dubiously suggested that his struggling side are keen on signing Arsenal and Belgium captain Thomas Vermaelen but admitted the deal is in doubt.
The 28-year-old defender has only made 11 appearances in all competitions this season with Per Mertesacker and Laurent Koscielny proving to be preferable options for manager Arsene Wenger.
"I think under the circumstances at Arsenal, in the position that they're in, in the Champions League and cup matches, they've had to use him as soon as any of the two defenders have been injured," said Allardyce.
"So I don't think there's any chance we'll get somebody of his quality. It would be nice if we could.
Tweet of the day
Deals of the Day
The big news yesterday was confirmation of Kevin de Bruyne's move from Chelsea to Wolfsburg for an undisclosed fee.
The 22-year-old started just five matches since arriving at Stamford Bridge from Genk in 2012 and has now signed a five-year-deal with the Bundesliga side.
"Chelsea thanks Kevin for his service and wishes him well at his new club," said a Blues statement.
The Belgian midfielder told the Wolfsburgh website: "It was clear from the start that Wolfsburg would be the first team I talk to if Chelsea gave me permission."
"That's why I'm very happy that this transfer has been completed.
"I want to play my part, make sure we continue to be successful, and return to the international stage."
Elsewhere today the transfer window remains quiet thus far with just two loans completed. Chris Erskine leaves Dundee United for Partick Thistle while Blackburn's Ruben Rochina heads to Spanish side Rayo Vallecano.