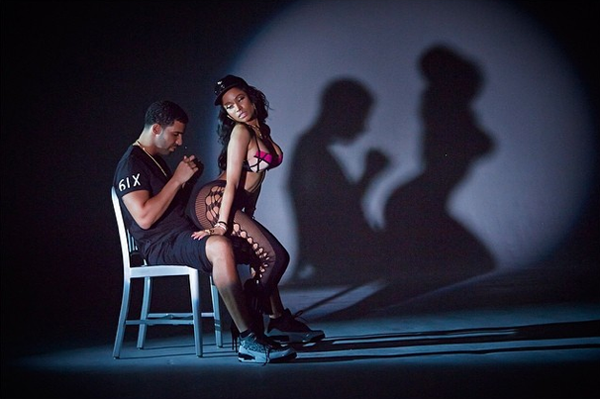 Nicki Minaj has reignited speculation that she is secretly dating rapper Drake after giving him a lap dance in the music video for her new track Anaconda.
In sexy stills released from the forthcoming promo, the scantily-clad Young Money rapper can be seen giving her record label mate a special treat by gyrating suggestively on him.
One image shows the 31-year-old star grabbing onto Drake's crotch as she squats in front of him. He looks aroused as he stares at her.
Another sees her grinding on him as he kisses her neck. Her provocative outfit consists of a bralet, cut-out leggings and no underwear.
"She needs to stop teasing that boy. You know he wants it bad and she knows she ain't going to give him any. But regardless the pictures are hot," one fan said.
Another wrote: "Ahhhh drake omg omg I love youuuu u both sexy."
A third added: "I love these two together. So excited".
The duo's sexy display is the latest indication that their chemistry may not just be for the cameras. Ever since they went on tour together back in 2012, there have been rumours that the pair are lovers.
During his Would You Like A Tour concert in LA last year, Drake described her as the most beautiful woman in the world.
"Make some noise for one of the most beautiful, talented women in the entire world, Miss Nicki Minaj,' as she joined him to perform Make Me Proud, he gushed as he introduced her surprise performance.
The Anaconda video will be unveiled on 20 August.