Miley Cyrus twerking, Psy's Gentlemen, Ylvis' The Fox and Steve Kardynal's Wrecking Ball parody are some of moments highlighted in YouTube's 2013 Rewind mashup.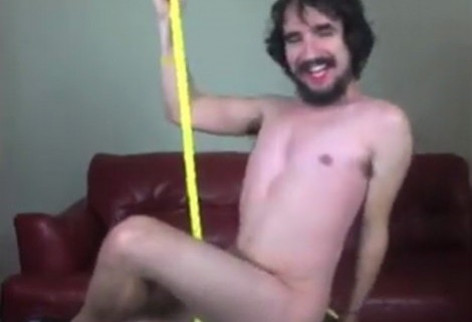 To celebrate the top moments of 2013, YouTube has put together a 2013 Rewind mashup, starring popular YouTube stars parodying the videos that have been trending on the video-sharing website over the last 12 months.
YouTube has divided up the videos into several categories - top trending videos of the year, defining moments of 2013 as well as top trending music videos.
2013 is clearly the year of the dance, as Miley Cyrus twerking at the MTV Video Music Awards, Korean rapper Psy's group dances, people performing the Harlem Shake dance, Evian's dancing babies commercial and comedian Steve Kardynal's parody of Cyrus' Wrecking Ball music video, performed live on online web chat site ChatRoulette, are some of the videos most popular with viewers.
Globally, the top trending video of 2013 is Ylvis - The Fox (What does the Fox say?), and YouTube has added a little dancing fox character to its signature red, white and black logo to celebrate.
Ylvis is a comedy duo from Norway featuring brothers Bård Ylvisåker and Vegard Ylvisåker, who claim to be influenced by Monty Python. Their music video "The Fox" has gained over 273 million views to date since it was launched in September 2013.
In the UK, the top trending videos of the year include the ridiculous "How Animals Eat Their Food" comedy video by YouTube comedian MisterEpicMann, which has 88 million views, followed by "My Wedding Speech" by Tom Fletcher. Fletcher's song to his bride touched many hearts and went viral on Facebook in January, garnering 11.8 million hits on YouTube.
Other top trending videos in the UK include Will Smith and his son Jaden rapping together with DJ Jazzy Jeff and Alfonso Ribeiro on the Graham Norton Show in May, Olympic diver Tom Daley coming out as gay and the amazing celebrity impressionist Francine Lewis wowing Simon Cowell on Britain's Got Talent in February.
Globally, YouTube viewers also had an obsession with goats screaming like humans, Evian's mirror image baby and adult dancing commercial and 53-year-old Claude Van Damme's "epic split" acrobatics between two reversing trucks for Volvo.
For music, Miley Cyrus' Wrecking Ball and We Can't Stop, Psy's Gentleman, Daft Punk's Get Lucky, The Lonely Island's YOLO (You Only Live Once), Naughty Boy's La La La featuring Sam Smith and Robin Thicke's Blurred Lines with T.I. Pharrell are the most watched videos in 2013.