Real Madrid manager Zinedine Zidane has confirmed that Raphael Varane has turned down big money offers to leave the Santiago Bernabeu during the current transfer window after recent reports in Spain claimed that Jose Mourinho personally called the Frenchman for a reunion at Manchester United. Meanwhile, the French boss has ruled out making any new signings before deadline day after reiterating his satisfaction with his current squad — although a player may still be surplus to requirements.
Varane, 23, left his future up in the air later last season after seeing his playing time restricted due to the ever-present Sergio Ramos and Pepe in the heart of Zidane's back-line.
Reports in Spain then claimed that Mourinho was ready to take advantage of the situation to lure him to Old Trafford, having already been heavily linked with his former Real Madrid defender during his stint at Chelsea.
Earlier this week Cope journalist Paco Gonzalez reported that during the summer the Portuguese called Varane to convince the Frenchman to link up with him at United. Gonzalez claimed Mourinho offered to double his wages with a €192,000-a-week [£164,000] offer. However, following a conversation with Zidane, Varane decided to snub United's offer to stay at the Santiago Bernabeu.
Zidane has now failed to confirm whether Mourinho called Varane to join United but did confirm that the Frenchman has turned down big money offers to stay at Real Madrid.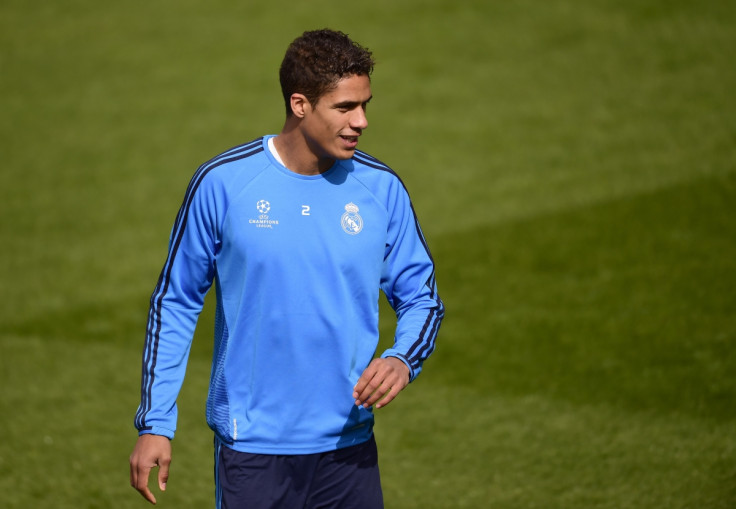 "Varane didn't want to go anywhere, even though some big offers came in for him," Zidane said in the press conference ahead of the La Liga game against Celta Vigo on Saturday. "He's an important player, an international. He's important for the club and for me. He's shown that in the first two matches and his quality is still there. I've got four very good centre-backs and only two can play."
However, James Rodriguez's future looks more uncertain after the Colombian was left out of Zidane's line-up for the first games of the season.
Asked about the Colombian Zidane replied: "James is a Madrid player. My answers might seem as though I want James to go, but he's a great player, he's here and he's got a contract. It's true that he's not playing much and that might be a problem, but I try to make all the players feel important and James is no different from the rest. I haven't spoken with James, nor with anyone in particular. I speak to the group".
Yet, the French manager admitted that some players may still leave Real Madrid before the end of the transfer window, but there will not be any new signings.
"Anything can happen until the 31st. Nobody is coming in, that's certain, but it's possible some may leave. This is the squad I've got and I'm happy with the players I have. There are injured players and some who still haven't come back yet. There's good depth, the season will be tough and we're going to need all of our players," he added.
"I have 23 or 24 players and they're all going to get a game. Cristiano and Karim aren't playing and there are other players who have done well. When everyone is back, I'll make the decisions about who will play, that's not going to change. I want to be clear, every player is important and it's no surprise that they're all here. If they're playing for Real Madrid, it's because they're very good footballers".