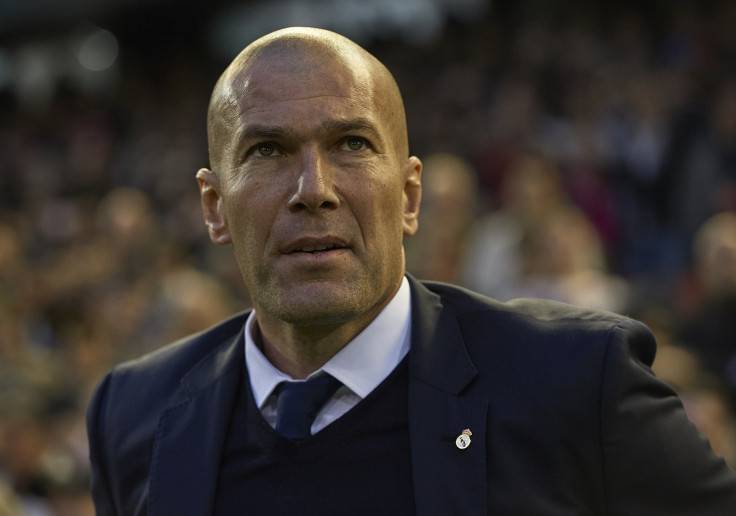 Zinedine Zidane has admitted that Theo Hernandez "is a good player", but refused to confirm recent reports claiming Real Madrid have agreed the signing of the Atletico Madrid starlet. Meanwhile, the boss backed his squad to cope with the latest injury blow to Raphael Varane ahead of a crucial month, which include key games against Diego Simeone's side, Barcelona and Bayern Munich.
Marca reported earlier on Tuesday (4 April) that Real Madrid are prepared to meet the €24m (£20.6m, $25.6m) release clause of the Atletico Madrid left-back in order to make him the club's first signing of the summer. The Spanish publications added that the Frenchman has already agreed terms with Los Blancos to make a shock transfer, which would end a 'non-aggression pact' between the two neighbours.
Zidane has now admitted his admiration for the Atletico Madrid youngster but refused to divulge anything else.
"He's a good player, there's no doubt about it. I'm focused on what I have to do with my players. I can't say anything about the rest," Zidane said in the press conference ahead of Real Madrid's trip to Leganes on Wednesday (5 April).
The other big news of the morning came from the treatment room after Los Blancos revealed Varane suffered "a grade 2 injury in the left femoral biceps" injury during the win over Alaves.
The France international was only returning to action in that game following more than a month on the sidelines and is now reportedly ready to be out of action for further four weeks – missing two key La Liga games against Atletico Madrid and Barcelona as well as both legs of the Champions League quarter-finals with Bayern Munich.
Zidane hopes to have him available as soon as possible but backed Pepe and Nacho to fill the gap in defence alongside Sergio Ramos in those games, starting with the midweek visit to Leganes.
"The scan tell us that it's not much, that's the important thing. It's not an injury like the last one or the one he had before that. It's not much, but I can't say how long he'll be out. It's around where he has the scar," the Real Madrid boss revealed.
"The role is the same. We don't know how long Varane will be out. Pepe's fine, he's important and a leader and captain of this team. It won't change anything. We'll use Pepe, Nacho, who is doing very well, and Ramos".
Meanwhile, Zidane is expected to keep rotating his squad against Leganes to have his players fresh for the busy month of April.
Sergio Ramos, Marcelo, James Rodriguez and Casemiro could return to the line-up after they missed the weekend win over Leganes. However, Dani Carvajal and Cristiano Ronaldo could be rested as they will miss the weekend derby against Atletico Madrid if they see a yellow card on Wednesday night.
"I'll not say whether or not they'll be in the squad. We're on top of it and we hope that both stay on four yellow cards until the end of the season. It's the challenge we've got. You'll see tomorrow who's in the squad. The good news is we're all ready, apart from Varane," Zidane said.
"Cristiano is fine. He'll go in to this final stretch like never before. Well, not like never before. Maybe I'm wrong. He's had years in which he finished very well. I hope he ends the season very well from a fitness point of view. We've a lot of games left and we have to be on top of everything, but he's okay."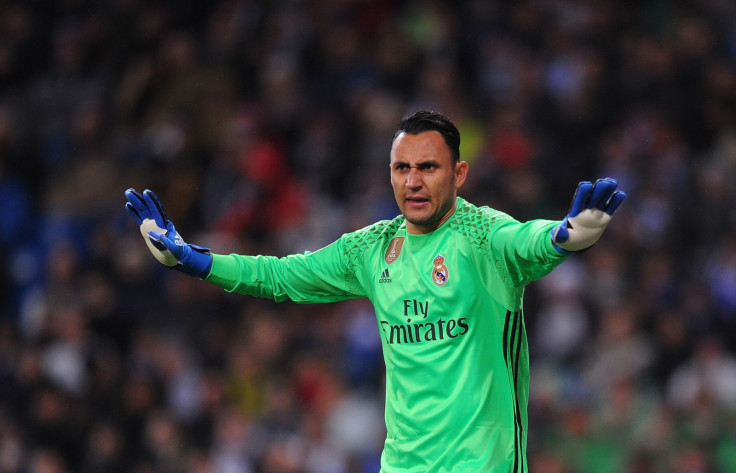 The Real Madrid boss also faces a selection dilemma between the sticks after Kiko Casilla kept a clean sheet against Alaves. Zidane insisted that Keylor Navas remains his first choice and suggested that the Costa Rica international could recover his place against Leganes.
"Both are very important, but Keylor is the number one goalkeeper at Real Madrid," Zidane added. "No doubt about it. When I don't play Keylor it's not because I don't trust him, not at all. I do it to give Kiko the chance to play, because he plays very well too."
Real Madrid will try to secure three points on Wednesday in order to keep their position at the top of La Liga, where they are currently two points ahead of Barcelona with one game in hand.
Los Blancos host Barcelona later in the month in an El Clasico that is expected to be particularly spicy after Gerard Pique recently questioned the values of the Catalans' arch-enemies.
However, asked about the comments of the Barcelona star, Zidane replied: "I'm not interested. I'll not talk about it anymore. I'm only interested in tomorrow's game, that we're all at our best and give our all. I'm not interested in the rest.
"We know what we want and what we're doing. We've been doing things right from the start of the season. We're focused on playing football, doing things well and winning games. We don't worry about the rest."