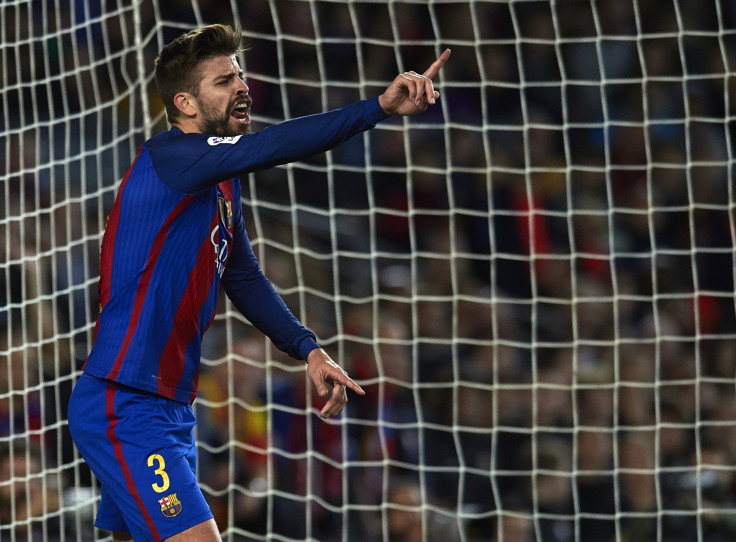 Gerard Pique has revealed that he would never work for Real Madrid in protest at the values of the Barcelona's arch-rivals. The Spain international pointed out that some of the names behind legal cases against Lionel Messi and Neymar are regulars in the Santiago Bernabeu VIP box, alongside club president Florentino Perez.
Pique did not name any specific individuals, but he may have been referring to Marta Silva Lapuerta – a former member of the Real Madrid board during Florentino Perez's first reign who worked as state attorney in those cases.
Barcelona were particularly vexed by Messi's case after the Argentina international was accused of avoiding €4.1m (£3.6m) in tax on his earnings by using off-shore companies between 2007 and 2009.
However, after the Barcelona star paid a huge fine, the Spanish prosecution service was ready to stop pursuing him – only for the state attorney to reverse that decision and force both Messi and his father to stand trial. They both eventually received a 21-month prison sentence.
Raul recently refused to rule out a shock future with Barcelona, but when asked about the comments made by the Real Madrid legend, Pique said: "I obviously don't doubt Raul's madridismo, but I'd never work at Real Madrid. What I don't like are the values Real Madrid transmit. There are players there I really appreciate and I consider some of them friends. What I don't like about Real Madrid is how those in directors' boxes pull the strings in this country.
"For example, I don't like seeing the person who accused Messi and Neymar. With Cristiano Ronaldo the treatment was different. She was alongside Florentino Perez there... It's always been like that. I consider all of Madrid's players friends, but as a club, what do you want me to say?
Pique has often accused Spanish referees of having double standards when it comes to Real Madrid and Barcelona. However, Sergio Ramos, Marcelo and other Real Madrid players recently suggested the opposite after Barcelona beat Paris Saint-Germain 6-1 in the Champions League following a number of controversial decisions by referee Deniz Aytekin.
But Pique said: "When did the referees favour us? In the Champions League? Ah, I thought the question was about the league. In the league it has been like this a while. We are discussing an historic comeback of 6-1 and you focus on the referees. And when [last season] Real Madrid win a Champions League [against Atletico Madrid] with an offside Sergio Ramos goal, nothing happens."
Pique was speaking to Spanish reporters after Spain beat France 2-0 on Tuesday night with the help of the video assistant referee (VAR). The new technology ruled out a goal from Antoine Griezmann before awarding one to Gerard Deulofeu that had not been given by the referee.
Asked for his opinion on the use of the VAR, Pique joked: "In the end, it all comes down to me wearing white. It worked really well and I think it'd be a good idea to have VAR in La Liga. We've been asking for it for some time."