Zidane gives Raphael Varane injury update as Real Madrid overtake Barcelona in La Liga race
Los Blancos secured a 2-1 win victory over Real Betis thanks to goals from Cristiano Ronaldo and Sergio Ramos.
Catalans lost 2-1 at Deportivo La Coruna just days after their historic 6-1 win over PSG.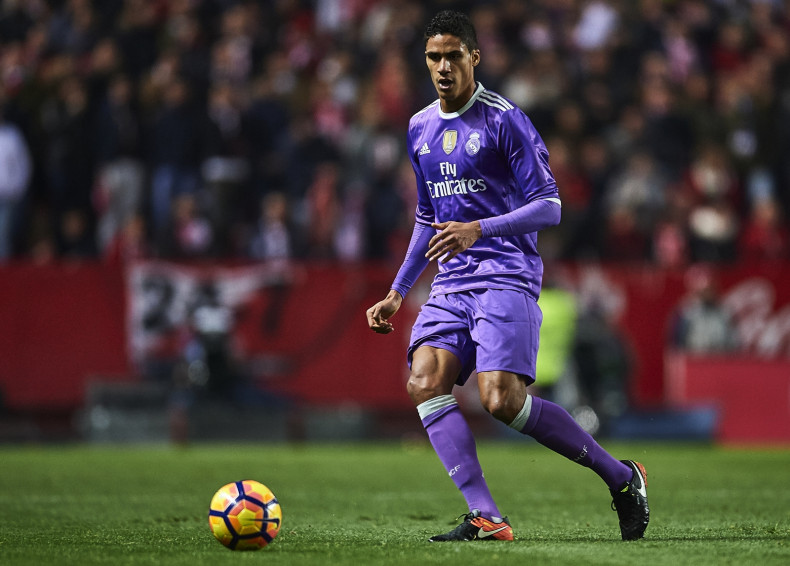 Raphael Varane is expected to remain sidelined until after the upcoming international break, even though the Real Madrid centre-back returned to light training last week. Meanwhile, manager Zinedine Zidane has expressed his delight after Los Blancos took advantage of Barcelona's defeat to Deportivo La Coruna to move back to the top of La Liga with a 2-1 victory over Real Betis.
Varane, 23, has missed the last five games after suffering a grade-two muscle strain in his left hamstring during the 2-1 defeat to Valencia on 22 February.
The France international appeared to take a step forward in his recovery by returning to light training last week, but Zidane has now revealed that the coming trip to Athletic Club Bilbao on Saturday (18 March) will probably come too soon for him. This means the Real Madrid defender will not be available until the encounter with Alaves on 2 April as there is an international break between the games.
"It's looking unlikely that he'll be involved on Saturday away at Bilbao. We're going to try and get him back as soon as possible. He's just returned to training and we've got to take things slowly with him," Zidane said in a post-match press conference after goals from Cristiano Ronaldo and Sergio Ramos gave Real Madrid a 2-1 win over Betis.
Pepe also missed the victory over the Andalusian side as Nacho and Sergio Ramos led the back-line and helped Los Blancos recover from Keylor Navas's early howler to go top La Liga, two points ahead of Barcelona with one game in hand.
"It's part of the game, everyone makes mistakes," Zidane said when asked about the Costa Rican's ricket that allowed Antonio Sanabria to put Betis 1-0 ahead earlier in the game. "In the end he saved us. I'm happy with how his teammates got behind him. The save he made has given us the three points. The referee decides whether or not it's a penalty. Keylor has a big personality and he made a great stop at the end. He made up for the mistake and made sure we got all three points."
Navas was also lucky to escape a red card in the 21st minute of the game after fouling Darko Brasanac. But Zidane said: "Everyone is allowed their own opinion. During the 90 minutes we did some good things and I'll focus on our work. I'm never going to get involved with the referee, he did his job in the game and that's it. We picked up the three points and I think we deserved it."
Meanwhile, the Real Madrid boss hailed his side's reaction to Betis' early goal, as they secured all three points mere hours after Barcelona lost 2-1 at Deportivo.
"My evaluation of the match is very good because we picked up the three points. We didn't have it all our own way and that's normal, but I am happy. We must congratulate all the players because we've had to be patient, the result in the end is a fair one, even if at times it didn't all go our way," Zidane said as his side returned to the top of the table with only 12 games remaining.
"The opposition played in their own half, they defended well and caused us problems on the counter-attack. We're happy with the result and we must congratulate the players because it wasn't easy. The pressure is there, it doesn't end here, there's still a lot to play for and we know that."