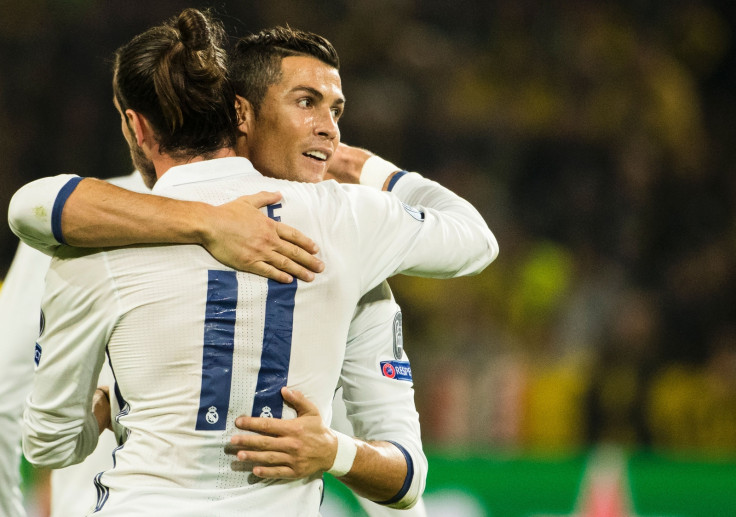 Cristiano Ronaldo and Gareth Bale are ready to lead the Real Madrid line-up when Atletico Madrid visit the Santiago Bernabeu on Saturday (8 April) after both forwards have returned to Zinedine Zidane's 23-man squad ahead of the derby. The France boss only has one injury in Raphael Varane so he is expected to deploy his strongest line-up in decisive game for Los Blancos hope to beat Barcelona for the La Liga title.
Zidane rotated his line-up almost in full during the midweek's 4-2 win over Leganes in order to have his key players fresh for a crucial run of fixtures which will include the coming derby, the visit of Barcelona on 23 April and the two legs of the Champions League quarter-finals against Bayern Munich.
Ronaldo, Bale and Toni Kroos were thus left out of the squad to face Leganes while other important players like Luka Modric, Karim Benzema, Dani Carvajal and Pepe started the game on the bench for Zidane to give an opportunity to the fringe players.
The decision paid off as Alvaro Morata scored a hat-trick and James Rodriguez netted another to keep Real Madrid at the top of La Liga table, two points ahead of Barcelona and with one game in hand.
Yet, Morata and the Colombian international are tipped to return to the bench against Atletico to make space for Ronaldo, Bale and Benzema up front as the Madrid derby is expected to be one of the toughest challenges that Los Blancos face in La Liga in their nine games remaining.
Zidane admits that Ronaldo will have a leading role to play on Saturday but insisted that every member of the squad will be important for Real Madrid to fight for both the La Liga and the Champions League titles.
"Ronaldo is an intelligent player and he knows what I'm looking for. We're all going to stick together until the end. He always steps up in the big games. His ambition drives him to play well and it's why he's phenomenal in training. He's ready for the final stretch of the season. He wants to score goals and be a key man for the team in every game he plays. That's brilliant, his ambition is contagious. His energy drives him on and that's a positive influence on everyone around him," Zidane said in his press conference ahead of the game.
"We've got nine games and everyone will be crucial. It's not all about the BBC. They know that we're a group and that every player is important. It's always difficult to pick the team, but all the guys are vital and that will be the case from now until the end of the season. What happens then, I don't know,
"The plan is for the BBC to come into the end of the season in top physical shape. When neither Bale nor Cristiano Ronaldo played the other day, that was because we know we've got a lot of games and also because I know what the other members of the squad can contribute to the team. Every match is different and from a physical point of view, I hope we can finish the season just as we're doing now in every training session and in every game".
James, meanwhile, arrives to the derby with his long-term future under big scrutiny after he raged at being replaced during the win over Leganes, refusing to shake hands with Zidane before punching the dugout in anger.
"It's something between coach and player and that'll always happen in football," Zidane said when asked about the reaction of the Colombian. "We've both got the same objectives. It's over now and we're only thinking about tomorrow's game."
Varane is the only player who remain on the Real Madrid treatment table to face Atletico after the France centre-back recently suffered a recurrence of his hamstring injury. However, Zidane will still have to rule out five more players before the game in order to make his final 18-man squad.
Meanwhile, the France boss refused to label Los Blancos as the favourites to win the derby despite they already beat Atletico away earlier in the campaign.
"There are no favourites. There are three points to be played for and we'll wait and see what happens. We know that every match has a history. Atlético are going very well and I'm not expecting anything like the game in the first half of the season. We'll have to dig in. We're focused and everyone wants to see a good game of football," he said.
"It's not going to be an easy game. I don't know how they're going to play but all I'm interested in is what we're going to do. As always, we're expecting 90 tough minutes and we'll have to show resilience because that's football. It's a derby and we know what type of game it will be. That's why we're taking it one game at a time."
A defeat of Los Blancos could see Barcelona overtaking them at the top of the La Liga table if the Catalans beat Malaga in their respective fixtures.
And with a El Clasico coming in only two weeks, asked whether it would be a failure losing the title to Barcelona, Zidane said: "We're here to do all we can to win and then people can have their opinions. We're committed and we want to do a good job. It's all to play for in these closing stages and everything we've done so far is irrelevant. We're playing for La Liga and the Champions League".