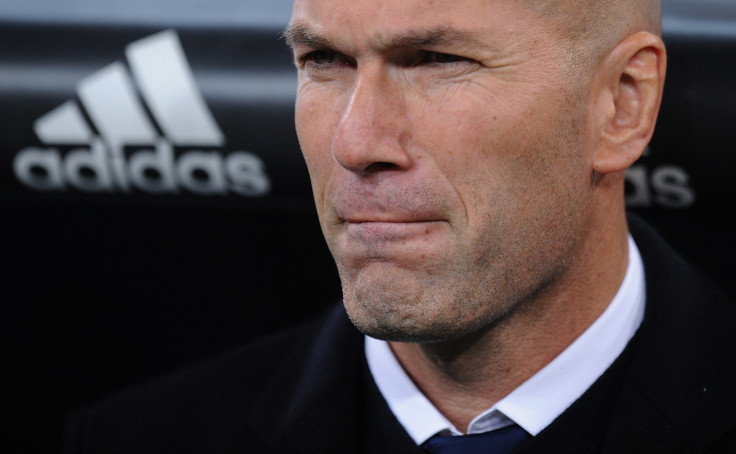 Zinedine Zidane has claimed that Real Madrid are not in crisis despite the Champions League winners having lost the La Liga lead to Barcelona following a number of disappointeing results since the beginning of 2017.
Real Madrid looked on course to beat Barcelona to the La Liga title following an impressive start to the season. However, Los Blancos have seen those hope dented in the last weeks after dropping points in recent games against Sevilla, Valencia and Las Palmas.
The latest disappointing midweek 3-3 draw with Las Palmas saw Barcelona moving top of La Liga table after the Catalans trashed Sporting Gijon 6-1, leaving Zidane's side one point behind – although Los Blancos still have one game in hand.
Zidane has revealed that Los Blancos held a private meeting in the dressing room to address the situation but refused to say there is a crisis at the Santiago Bernabeu.
"Today we spoke in the dressing room as we always do, and looked at video analysis and had a slightly longer chat than usual, but what we said stays in the dressing room. We are trying to do things out on the pitch but it doesn't always happen for us, we spoke about things and that is that. I know you are worried about the dressing room but that is normal add we are clear on what we want to do and we will keep fighting," Zidane said in the press conference ahead of the trip to Eibar.
"I sense (a lot of negativity) whenever we have a bad game or we don't achieve what we want. It happens here and in many clubs. We analyse things and look at how we can improve. Although there is a lot of negativity, that will always be the way and we know that. I am used to it, I've been here many years. For me the word 'crisis' does not exist at Real Madrid or in the footballing world, because every three days you have the chance to improve things."
The Real Madrid boss remains positive to beat Barcelona for La Liga title and has backed his side to return to winning ways when they visit seventh in La Liga table on Saturday.
"We hope to put in a good performance at Ipurua, play 90 great minutes. As with all games, we know the challenges that lie in wait at this ground, it is a tough place to go. We depend on ourselves and are not looking for excuses. We know what training hard and fighting in each game can get us. The results have not gone our way lately but the important thing is that we give 100%," he said.
Barcelona have a tough encounter with Celta Vigo at home at the weekend but Real Madrid will have to face their big challenge with the Basque side without Gareth Bale and Morata due to suspension. Furthermore, Cristiano Ronaldo is a doubt after he missed the Friday's workout.
Zidane has confirmed that the Ballon D'or winner is not 100% but refused to confirmed whether he will definitely rest his star ahead of having him fully fit for the Champions League decider at Napoli on Tuesday night.
"Ronaldo wasn't feeling 100% and that is why he did not train today. All of the games are important, but the key thing is that the players do well, so now we have to see what we're going to do with Cristiano," the boss said.