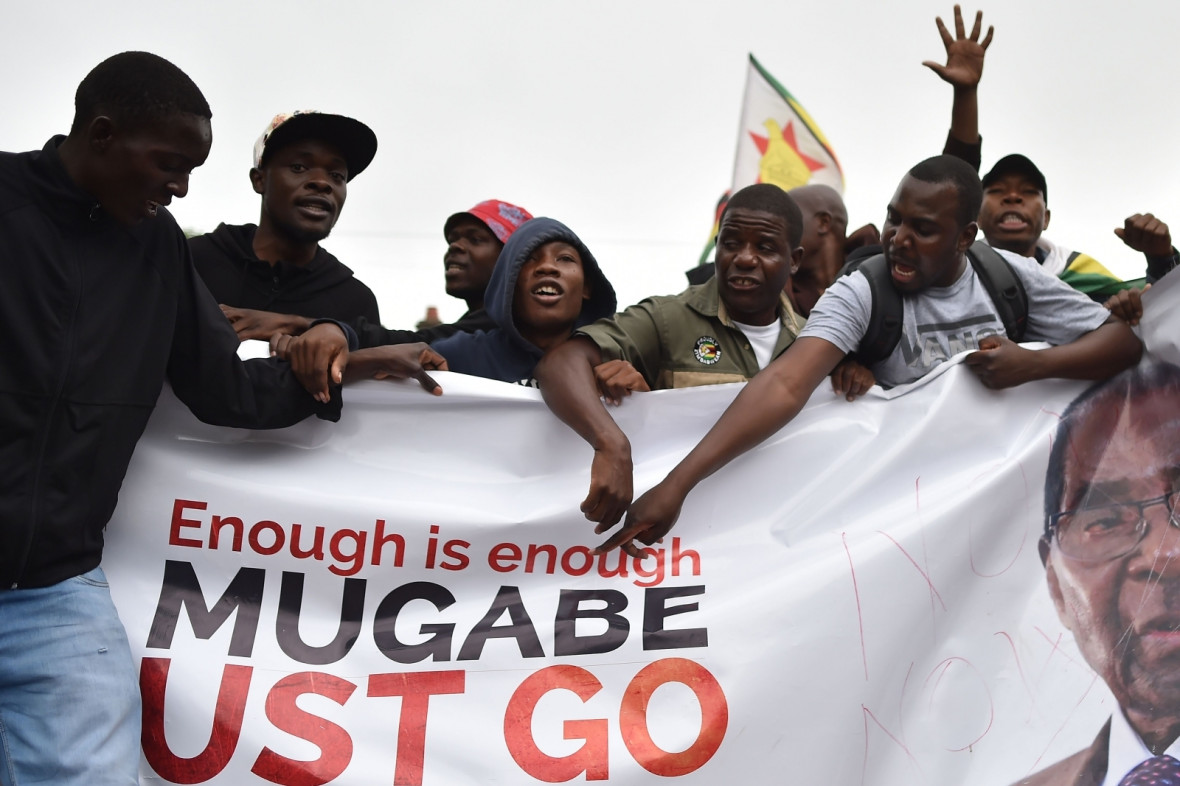 Opponents of Zimbabwean President Robert Mugabe gathered on 18 November to demonstrate against the 93-year-old leader who is virtually powerless and deserted by most of his allies.
Zimbabwe's generals have placed Mugabe under house arrest and have allowed him limited movement while talks on his exit from office unfold. But many Zimbabweans are growing impatient and want him to leave immediately.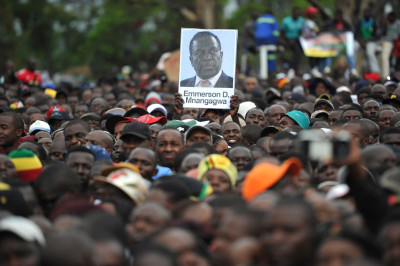 Protesters hope a big turnout on Saturday will speed up the official end of Mugabe's rule, which is widely blamed for the collapse of an economy that was once one of Africa's wealthiest.
Euphoric crowds are gathering on some main streets in downtown Harare and motorists are honking their horns and people are whistling and cheering even as many go about their daily business.
The events are an extraordinary show of support for the military's move to step in and put longtime President Robert Mugabe under house arrest. Impatient Zimbabweans are urging the reluctant Mugabe to step aside.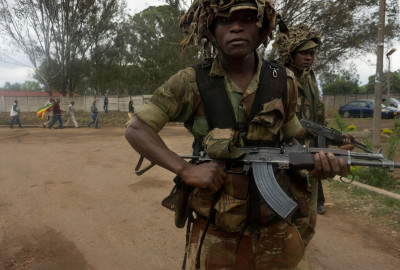 Some of the several thousand exuberant demonstrators in Zimbabwe's capital Harare are removing street signs with the name of President Robert Mugabe and stomping on them, as pressure builds for the longtime leader to step aside.
The state-run broadcaster says it will be airing the speeches planned at the Zimbabwe Grounds, which was chosen for its symbolism. The location is where Zimbabweans gathered to cheer Mugabe's return from exile in 1980 after the liberation war from white minority rule. Now they want to see him off.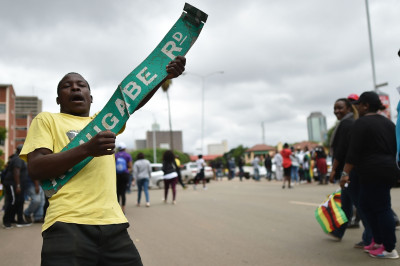 People of all races are marching by the State House, Mugabe's official residence, though he now lives in a mansion elsewhere. Soldiers guarding the State House are waving to the marchers.
A Zimbabwean newspaper publisher is tweeting a plea that addresses concerns about who might lead Zimbabwe after President Robert Mugabe steps aside.
Trevor Ncube says: "Dear world, we are fully aware of the possible risks and pitfalls beyond this tipping point. We are confident we are equal to the challenges. We remember Egypt too. After 37 years of repression, allow us to soak in this moment. Sincerely, #Zimbabwe."
A former Zimbabwean Cabinet member says a "massive march" is being held in the country's second-largest city. Former education minister David Coltart says on Twitter he spoke at the march organized by churches in Bulawayo city to urge President Robert Mugabe to resign. He says thousands of people are there.
"I never thought I would see the day as we marched past central police station without being arrested!" he says. "Amazing scenes."
Coltart says he called for the restoration of civilian rule and free and fair elections.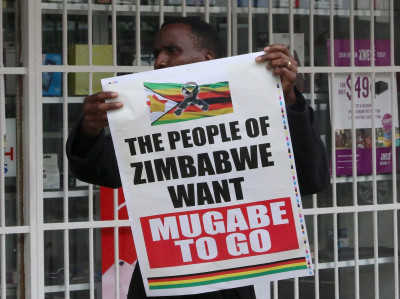 Zimbabwe's state-run media are showing previously unthinkable images of demonstrations against President Robert Mugabe as several thousand exuberant people march toward his official residence, the State House.
The Zimbabwe Broadcasting Corporation showed footage of people streaming through the streets of the capital, Harare, and one person carrying a sign saying "The people of Zimbabwe want Mugabe to go."
The state-run Zimbabwe Herald newspaper reports the crowds are "wanting to see President Mugabe out."
The report headlined "#Mugabe Must Go!" notes some of Mugabe's achievements in his nearly four decades in power but says that "however the revolutionary train derailed somewhere along the way."
Zimbabwe's military is urging the thousands upon thousands of people streaming through the capital to be orderly and "vigilant against agent provocateurs" who might wish to discredit the push to get longtime President Robert Mugabe to step aside.
The new statement read out on state-run television comes as much of Harare's population appears to be marching toward Mugabe's official residence, the State House. Mugabe lives in a mansion elsewhere in the city, however, and is under house arrest.
The military thanks the marchers and says its "operation" to arrest some top officials close to Mugabe and his wife continues.
Zimbabwe's state-run broadcaster is calling the country "free and liberated" as the bulk of the capital's population seems to be streaming toward the official residence of longtime President Robert Mugabe in a call for him to leave.
The broadcaster is showing previously unthinkable footage of speeches at a rally where speakers declare that "This is the new Zimbabwe."
Mugabe is said to be resisting calls to step down even as he remains under military house arrest.
One speaker at the rally is expressing popular anger at first lady Grace Mugabe, whose apparent attempts to succeed her husband were a factor in the military's move.
"You and your husband should go today and not tomorrow," the speaker says.
South African support
South African President Jacob Zuma two days ago said Zimbabwe's political situation "very shortly will be becoming clear." Now Zuma says the situation is in "early days."
Zuma says he's cautiously optimistic it will be "resolved amicably" as Zimbabwe's President Robert Mugabe resists stepping aside.
Zuma spoke with Mugabe under military house arrest earlier this week and sent Cabinet ministers to negotiate on Mugabe's departure. He calls those talks "fruitful" but gives no details.
Zuma also says South Africa's government supports "the people of Zimbabwe during this difficult period." He reiterates the African Union's stance against "unconstitutional changes in government."
Zimbabweans are rallying outside their consulate in neighbouring South Africa in solidarity with thousands marching in their capital against longtime President Robert Mugabe.